Event
British Grand Prix
Date
Sun 2nd August 2020 UTC
Sun 2nd August 2020 Local
Time
13:00:00 UTC
14:00:00 Local
Poster
Thumb
Square Poster
Recent Record
Click here to show
League
Formula 1
Season
2020
Round
4
Location
Silverstone Circuit
(0 Attendance)
Site
Home /
Sport /
Motorsport
/
Formula 1
/
2020
/
British Grand Prix
Video Highlights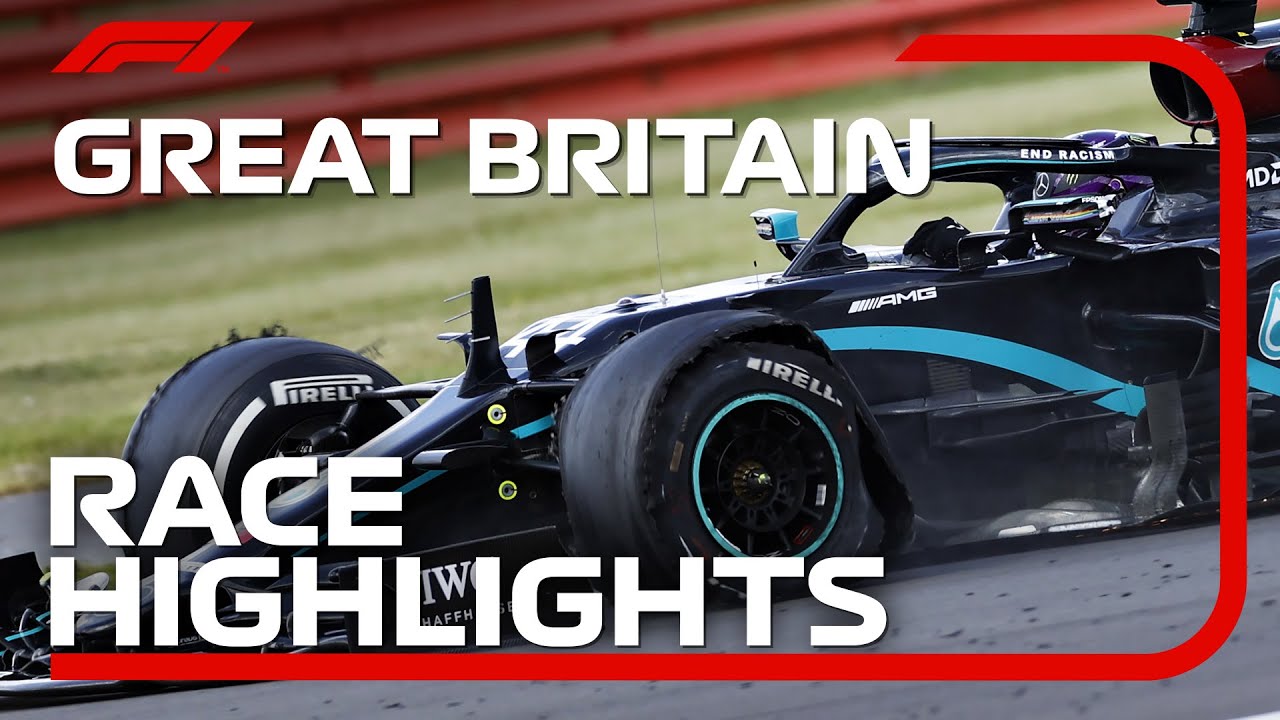 Play on YouTube
Event Statistics Description


The 2020 Formula 1 Pirelli British Grand Prix is a Formula One motor race held on 2nd August 2020 at the Silverstone Circuit in Silverstone, United Kingdom. The race is the 4th round of the 2020 Formula One World Championship. It marks the 75th running of the British Grand Prix, the 71st time that the race has been run as a World Championship event and the 54th time that the World Championship event has been held at the Silverstone Circuit. Lewis Hamilton won the race for a record sixth time in 2019.

Reports

Result List
1
Lewis Hamilton
1:28:01.283
2
Max Verstappen
+5.856s
3
Charles Leclerc
+18.474s
4
Daniel Ricciardo
+19.650s
5
Lando Norris
+22.277s
6
Esteban Ocon
+26.937s
7
Pierre Gasly
+31.188s
8
Alexander Albon
+32.670s
9
Lance Stroll
+37.311s
10
Sebastian Vettel
+41.857s
11
Valtteri Bottas
+42.167s
12
George Russell
+52.004s
13
Carlos Sainz Jr
+53.370s
14
Antonio Giovinazzi
+54.205s
15
Nicholas Latifi
+54.549s
16
Romain Grosjean
+55.050s
17
Kimi Raikkonen
+1 lap
18
Daniil Kvyat
DNF (11Laps)
18
Kevin Magnussen
DNF (1 Lap)
18
Nico Hulkenberg
DNF (0Laps)
Result DescriptionPopular Tweets

Fanart

Banner



zag says:
02 Aug 2020 19:28
Good race and an exciting finish.
Continue discussion on forum..

Other Event Name




Potential Filename

Formula.1.2020-07-19.British.Grand.Prix.ext

Download Metadata


Kodi NFO File