Event
Philadelphia Eagles vs
Kansas City Chiefs
Date
Sun 12th February 2023 UTC
Sun 12th February 2023 Local
Time
23:30:00 UTC
16:30:00 Local
Poster
Your Rating (Click a star below)












Total Rating


(2 users)


Thumb




Square Poster




League
NFL

Season
2022

Round
200

Status


Location
State Farm Stadium
(67,827 Attendance)
Glendale, AZ
United States





Site
Home /
Sport /
American-Football
/
NFL
/
2022
/
Philadelphia Eagles vs Kansas City Chiefs
vs

35

No timeline found..

38

No timeline found..
Video Highlights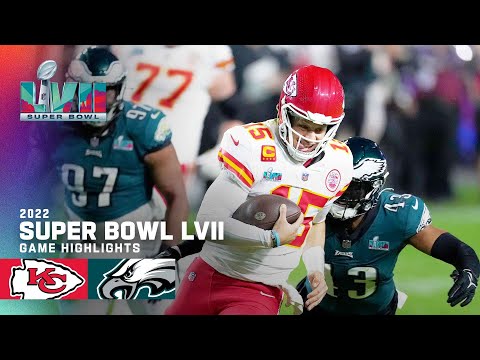 Play on YouTube
Home Team Lineup

Kelce
Center



Dickerson
Left Guard



Mailata
Left Tackle



Hurts
Quarterback



Seumalo
Right Guard



Johnson
Right Tackle



Sanders
Running Back



Goedert
Tight End



Brown
Wide Receiver



Watkins
Wide Receiver



Smith
Wide Receiver


Away Team Lineup

Humphrey
Center




Thuney
Left Guard




Jr.
Left Tackle




Mahomes
Quarterback




Smith
Right Guard




Wylie
Right Tackle




Pacheco
Running Back




Kelce
Tight End




Gray
Tight End




Moore
Wide Receiver




Smith-Schuster
Wide Receiver




Valdes-Scantling
Wide Receiver



Event Statistics Description


Super Bowl LVII was an American football game played to determine the champion of the National Football League (NFL) for the 2022 season. It was the 57th Super Bowl and was played on Sunday, February 12, 2023, at State Farm Stadium in Glendale, Arizona, with kickoff time at 4:30 PM MST (UTC-7). The American Football Conference (AFC) champion Kansas City Chiefs defeated the National Football Conference (NFC) champion Philadelphia Eagles, 38–35.
It was the fourth Super Bowl hosted by the Phoenix metropolitan area, with the most recent previously being Super Bowl XLIX in 2015, also held at State Farm Stadium (then called University of Phoenix Stadium). The game was televised nationally by Fox. The halftime show was headlined by Rihanna.

Reports
None found...
Result ListResult Description
The Chiefs' victory was their second in four years and their third overall. Finishing with a tied-league high 14–3 record, the Chiefs reached their fourth appearance thanks to NFL MVP Patrick Mahomes. The Eagles, who also finished with a 14–3 record, were looking for their second Super Bowl victory after Super Bowl LII. Each team finished as the one-seed in the regular season, the first time since Super Bowl LII.
After the Eagles went into halftime up 24–14, the Chiefs mounted a comeback to win the game 38–35 with a Harrison Butker game-winning field goal. Chiefs quarterback Patrick Mahomes was named Super Bowl Most Valuable Player (MVP), completing 21 of 27 passes for 182 yards and three touchdowns, while also rushing six times for 44 yards. Mahomes became the first quarterback since Kurt Warner in 1999 to win an NFL MVP and a Super Bowl title.

Popular Tweets

Fanart

Banner



zag says:
13 Feb 2023 22:23
Great game again.