Event
Italian Grand Prix
Date
Sun 12th September 2021 UTC
Sun 12th September 2021 Local
Time
13:00:00 UTC
15:00:00 Local
Poster
Thumb
Square Poster
Recent Record
Click here to show
League
Formula 1
Season
2021
Round
14
Status
Location
Autodromo Nazionale di Monza
(0 Attendance)
Site
Home /
Sport /
Motorsport
/
Formula 1
/
2021
/
Italian Grand Prix
Video Highlights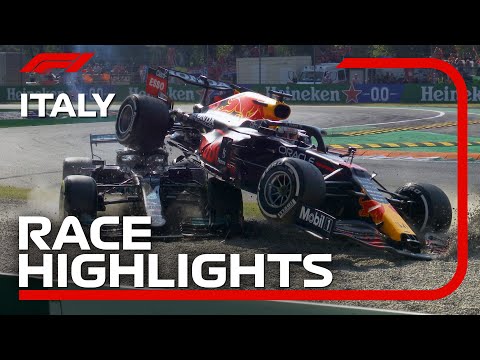 Play on YouTube
Event Statistics Description


The Italian Grand Prix (Italian: Gran Premio d'Italia) is the fifth oldest national Grand Prix (after the French Grand Prix, the American Grand Prize, the Spanish Grand Prix and the Russian Grand Prix), having been held since 1921. In 2013 it became the most held Grand Prix (the 2019 edition was the 89th). It is one of the two Grand Prix (along with the British) which has run as an event of the Formula One World Championship Grands Prix every season, continuously since the championship was introduced in 1950. Every Formula One Italian Grand Prix in the World Championship era has been held at Monza except in 1980, when it was held at Imola.
After the race, Verstappen and Hamilton were summoned to the stewards regarding their crash. The stewards ruled that Verstappen was predominantly at fault and awarded him a three-place grid penalty for the following race in Sochi, as well as two penalty points on his super license.[

Reports

Result List
1
Daniel Ricciardo
1:21:54.365
2
Lando Norris
+1.747s
3
Valtteri Bottas
+4.921s
4
Charles Leclerc
+7.309s
5
Sergio Perez
+8.723s
6
Carlos Sainz Jr
+10.535s
7
Lance Stroll
+15.804s
8
Fernando Alonso
+17.201s
9
George Russell
+19.742s
10
Esteban Ocon
+20.868s
Result DescriptionPopular Tweets

Fanart

Banner



Ovokx says:
12 Sep 2021 16:24
What a clash between Verstappen & Hamilton!!!!