Site
Home /
Sport
/
Soccer
/
Dutch Eredivisie
/
PSV Eindhoven /
Ruud van Nistelrooy
Description
Available in:

Rutgerus Johannes Martinus van Nistelrooij (anglicised to Van Nistelrooy; born 1 July 1976) is a Dutch professional football coach and former player. He is currently the coach of PSV Eindhoven.

A former footballer, Van Nistelrooy is often considered one of the best strikers of all time. He has been the top scorer in three separate UEFA Champions League seasons, and is the sixth-highest goalscorer in the competition's history with 56 goals. He has also been the top scorer in three different European domestic leagues. In 2004, he was listed in the FIFA 100 of the world's greatest living players.

Van Nistelrooy began his career with Den Bosch, before moving onto Heerenveen, eventually making a name for himself at PSV Eindhoven, where he won two Eredivisie titles. His goalscoring record at PSV attracted attention from Manchester United; a deal was in place in the summer of 2000, but because of injury problems, his move was secured a year later for a then British record fee of £19 million. His time at United was successful, winning the Premier League, FA Cup, Football League Cup and FA Community Shield, along with winning the Sir Matt Busby Player of the Year twice. Van Nistelrooy hit 150 goals in just 219 games for United, as well as becoming, at the time, their all-time European record goalscorer, but fell out of favour towards the end of his tenure. Real Madrid then secured his services in 2006. Although an injury blighted the end of his days with Madrid, he won La Liga twice and the Supercopa de España before signing for Hamburger SV during the January transfer window in 2010. After one-and-a-half seasons with Hamburg, he moved back to Spain with Málaga in the summer of 2011. His retirement from football was announced on 14 May 2012.

Internationally, Van Nistelrooy represented the Netherlands on 70 occasions, netting 35 times. He was part of the Euro 2004, 2006 World Cup and Euro 2008 squads.

Van Nistelrooy earned 70 caps and scored 35 goals for the Netherlands. He made his debut for the national team in a friendly match against Germany on 18 November 1998. However, the cruciate ligament injury which postponed his transfer to Manchester United also ruled Van Nistelrooy out of Euro 2000.

As the Dutch failed to qualify for the 2002 World Cup, Van Nistelrooy did not make his tournament debut for the Netherlands until Euro 2004, where he and the Czech Republic's Milan Baroš were the only players to score in all three group stage matches. The Netherlands reached the semi-finals where they were defeated by hosts Portugal 2–1. Van Nistelrooy was named in the tournament all-star team.

During a 2006 World Cup qualifying match, he scored in the Dutch's 4–0 win over bottom-placed Andorra and was yellow-carded for going to Andorra player Antoni Lima and celebrating in front of him, following an incident six minutes before when Van Nistelrooy missed a penalty and Lima laughed at him. He was a part of coach Marco van Basten's squad for the 2006 World Cup finals, for which he served as the official FIFA/SOS ambassador. He started, and was substituted, in all of the Netherlands' group stage matches, and scored his lone goal against the Ivory Coast. Van Nistelrooy was dropped to the bench by Van Basten without an explanation for the Netherlands' second round match, which saw them again eliminated by Portugal.

Van Basten left the striker out of the squad for a friendly against the Republic of Ireland on 16 August 2006. Dirk Kuyt replaced Van Nistelrooy in their next match against Portugal in September. After Klaas-Jan Huntelaar was unavailable for Euro 2008 qualifiers against Bulgaria and Belarus due to injury, Van Nistelrooy refused Van Basten's request to take his place on the roster.

On 23 January 2007, Van Nistelrooy announced his retirement from international football following continued disputes with Van Basten, which had started back in 2006 during the course of the World Cup finals matches. After several phone conversations and at the persuasion of veteran goalkeeper Edwin van der Sar, however, both player and coach put aside their differences. Van Basten announced four months later that Van Nistelrooy was returning to the Oranje. On 8 September, Van Nistelrooy filled Huntelaar's spot, as previously requested, for the qualifier against Bulgaria, scoring in a 2–0 victory, and scored the winning goal four days later in injury time of the Netherlands' win over Albania.

At Euro 2008, Van Nistelrooy scored for the Netherlands in their decisive 3–0 victory over Italy in the group stage, and scored the equaliser in their eventual 3–1 loss to Russia in the quarter-finals. On 4 August, he again announced his retirement from international competition.

During the buildup to the 2010 World Cup, Van Nistelrooy again made himself available, but was left out by the Netherlands' new coach Bert van Marwijk. After being left out for the World Cup, Van Nistelrooy said he had no choice but to face the fact that his international career is finished.

After main striker Robin van Persie suffered an injury during a match with his club Arsenal, Van Marwijk gave Van Nistelrooy a chance to reclaim his position as the main striker of the Netherlands' national team. Van Nistelrooy was invited to two Netherlands' Group E qualification matches for Euro 2012 against San Marino and Finland. He scored in the 5–0 victory against San Marino on 3 September 2010.

Van Nistelrooy was again recalled to the squad in March 2011 for two Euro 2012 qualification games with Hungary, after injuries to strikers Klaas-Jan Huntelaar, Arjen Robben and Theo Janssen. In the away game on 25 March, he appeared as a late substitute for Dirk Kuyt while in the return game in Amsterdam four days later, he came off the bench to score his 35th international goal. adding it is "wonderful to be able to add something to this Oranje team", as he told Berend Scholten.

Van Nistelrooy married his girlfriend, Leontien Slaats, in July 2004. The couple had their first child, a girl named Moa Annette, in September 2006, and a son named Liam in March 2008. Van Nistelrooy is a Roman Catholic Christian.


Career Honours


KNVB Cup
2022-2023
PSV Eindhoven

Supercopa de España
2008
Real Madrid

La Liga
2007-2008
Real Madrid

La Liga Trofeo Pichichi
2006-2007
Manchester United

La Liga
2006-2007
Real Madrid

Football League Cup
2005-2006
Manchester United

FA Cup
2003-2004
Manchester United

FA Community Shield
2003
Manchester United

UEFA Team of the Year
2003
Manchester United

Premier League
2002-2003
Manchester United

Premier League Golden Boot
2002-2003
Manchester United

Premier League Player of the Season
2002-2003
Manchester United

PFA Players Player of the Year
2001-2002
Manchester United
Career Milestones


UEFA Champions League Hat-Trick
1998-11-25
Former Youth Teams


1991-1993
Former Senior Teams


1994-1997

1997-1998

1998-2001

1998-2011

2001-2006

2006-2010

2010-2011

2011-2012
Former Club Staff


2014-2016
Assistant Manager

2018-2021
Manager

2020-2021
Assistant Manager

2021-2022
Manager
Contracts

Fanart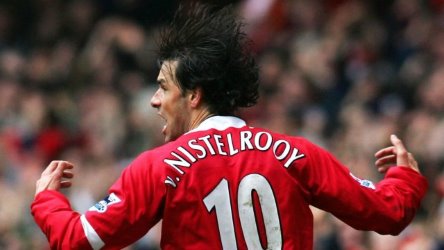 Banner
News Reports
None found...
Statistics

None Found...
Other Links