Site
Home /
Sport
/
Soccer
/
_No League Soccer
/
_Retired Soccer /
Thierry Henry
Description
Available in:

Thierry Daniel Henry (born 17 August 1977) is a French professional football coach and former player who is an assistant coach for the Belgium national team. Considered one of the greatest strikers of all time and one of the greatest players in the history of the Premier League, Henry was runner-up for the Ballon d'Or in 2003, FIFA World Player of the Year in 2004 and third place for the Ballon d'Or in 2006. He was named the PFA Players' Player of the Year twice, the FWA Footballer of the Year three times, and was named in the PFA Team of the Year six consecutive times. He was also included in the FIFA FIFPro World XI once and the UEFA Team of the Year five times. He was one of the most commercially marketed footballers during the 2000s. Henry, along with Alan Shearer, was one of the inaugural inductees into the Premier League Hall of Fame in 2021.

Henry made his professional debut with Monaco in 1994 before signing for defending Serie A champions Juventus. However, limited playing time, coupled with disagreements with the club's hierarchy, led to him signing for Premier League club Arsenal for £11 million in 1999. Under long-time mentor and coach Arsène Wenger, Henry became a prolific striker and Arsenal's all-time leading scorer with 228 goals in all competitions. He won the Premier League Golden Boot a record four times, won two FA Cups and two Premier League titles with the club, including one during an unbeaten Invincible season. Henry spent his final two seasons with Arsenal as club captain, leading them to the 2006 UEFA Champions League Final. Henry transferred to Barcelona in 2007 and in the 2008–09 season, he was a key part of the club's historic treble when they won La Liga, the Copa del Rey, and the UEFA Champions League. In 2010, he joined Major League Soccer (MLS) club New York Red Bulls and returned to Arsenal on loan for two months in 2012, before retiring in 2014.

Henry had success with France, winning the 1998 FIFA World Cup, UEFA Euro 2000 and 2003 FIFA Confederations Cup. He was named French Player of the Year a record five times, named to the UEFA Euro 2000 Team of the Tournament, awarded both the 2003 FIFA Confederations Cup Golden Ball and Golden Shoe, and named to the 2006 FIFA World Cup All-Star Team. In October 2007, he became his country's record goalscorer. After amassing 123 appearances and 51 goals, Henry retired from international football after the 2010 FIFA World Cup.

After retiring, Henry transitioned into coaching. He began coaching Arsenal's youth teams in February 2015, in tandem with his work as a pundit for Sky Sports. In 2016, he was appointed as an assistant coach at Belgium, before assuming the role as the head coach at Monaco in 2018. He was relieved of his duties at Monaco in January 2019 and returned to MLS less than a year later to manage Montréal Impact. He led Montréal to the playoffs in the 2020 season before departing in 2021.

Henry enjoyed a successful career with the France national team, winning the first of his 123 caps in June 1997, when his good form for Monaco was rewarded with a call-up to the Under-20 French national team, where he played in the 1997 FIFA World Youth Championship alongside future teammates William Gallas and David Trezeguet. Within four months, France head coach Aimé Jacquet called Henry up to the senior team. The 20-year-old made his senior international debut on 11 October 1997 in a 2–1 win against South Africa. Jacquet was so impressed with Henry that he took him to the 1998 FIFA World Cup. Although Henry was a largely unknown quantity at international level, he ended the tournament as France's top scorer with three goals. He was scheduled to appear as a substitute in the final, where France beat Brazil 3–0, but Marcel Desailly's sending off forced a defensive change instead. In 1998, he was made a Knight of the Legion of Honour, France's highest decoration.

Henry was a member of France's UEFA Euro 2000 squad, again scoring three goals in the tournament, including the equaliser against Portugal in the semi-final, and finishing as the country's top scorer. France later won the game in extra time following a converted penalty kick by Zinedine Zidane. France went on to defeat Italy in extra-time in the final, earning Henry his second major international medal. During the tournament, Henry was voted man of the match in three games, including the final against Italy.

The 2002 FIFA World Cup featured a stunning early exit for both Henry and France as the defending champions were eliminated in the group stage after failing to score a goal in all three games. France lost against Senegal in their first group match and Henry was red carded for a dangerous sliding challenge in their next match against Uruguay. In that game, France played to a 0–0 draw, but Henry was forced to miss the final group match due to suspension; France lost 2–0 to Denmark.

Henry returned to form for his country at the 2003 FIFA Confederations Cup. Despite playing without team stalwarts Zidane and Patrick Vieira, France won, in large part owing to Henry's outstanding play, for which he was named Man of the Match by FIFA's Technical Study Group in three of France's five matches. In the final, he scored the golden goal in extra time to lift the title for the host country after a 1–0 victory over Cameroon. Henry was awarded both the Adidas Golden Ball as the outstanding player of the competition and the Adidas Golden Shoe as the tournament's top goalscorer with four goals.

In UEFA Euro 2004, Henry played in all of France's matches and scored two goals. France beat England in the group stage but lost to the eventual winners Greece 1–0 in the quarter-finals. During the 2006 FIFA World Cup Henry remained as one of the automatic starters in the squad. He played as a lone striker, but despite an indifferent start to the tournament, became one of the top players of the World Cup. He scored three goals, including the winning goal from Zidane's free kick against defending champions Brazil in the quarter-final. However, France subsequently lost to Italy on penalties (5–3) in the final. Henry did not take part in the penalty shoot-out, having been substituted in extra time after his legs had cramped. Henry was one of ten nominees for the Golden Ball award for Player of the Tournament, an award which was ultimately presented to his teammate, Zidane and was named a starting striker on the 2006 FIFPro World XI team.

On 13 October 2007, Henry scored his 41st goal against the Faroe Islands, joining Michel Platini as the country's top goalscorer of all time. Four days later at the Stade de la Beaujoire, he scored a late double against Lithuania, thereby setting a new record as France's top goalscorer. On 3 June 2008, Henry made his 100th appearance for the national team in a match against Colombia, becoming the sixth French player ever to reach that milestone.

Henry missed the opening game of France's short-lived UEFA Euro 2008 campaign, where they were eliminated in the group stages after being drawn in the same group as Italy, the Netherlands and Romania. He scored France's only goal in the competition in a 4–1 loss to the Netherlands.

The French team struggled during the 2010 FIFA World Cup qualifiers and finished second in their group behind Serbia. During the play-offs against the Republic of Ireland, Henry was involved in a controversy in the second leg of the game at the Stade de France on 18 November 2009. With the aggregate score tied at 1–1 and the game in extra time, he used his hand twice to control the ball before delivering a cross to William Gallas who scored the winner. This sparked a barrage of criticism against the Frenchman, while national team coach Raymond Domenech and Arsenal manager Arsène Wenger defended him. The Football Association of Ireland lodged a formal complaint with FIFA, seeking a replay of the game, which FIFA declined. Henry said that he contemplated retiring from international football after the reactions to the incident, but maintained that he was not a "cheat"; hours after FIFA had ruled out a replay, he stated that "the fairest solution would be to replay the game". FIFA President Sepp Blatter described the incident as "blatant unfair play" and announced an inquiry into how such incidents could be avoided in future, and added that the incident would be investigated by the Disciplinary Committee. Blatter also said Henry told him that his family had been threatened in the aftermath of the incident. In January 2010, FIFA announced that there was no legal basis to sanction Henry.

Henry did not feature in the starting line-up for France at the 2010 FIFA World Cup. France drew in their first game against Uruguay, and lost 2–0 in their second against Mexico. The team was thrown into disarray when Nicolas Anelka was expelled from the team, and captain Patrice Evra led a team protest by refusing to train. In the final group game against host-nation South Africa in which Henry came on as a second-half substitute, France lost 2–1 and were eliminated from the tournament. He then announced his retirement from international football, having won 123 caps and scored 51 goals for Les Bleus, thus finishing his international career as France's all-time top scorer, and second most capped player after Lilian Thuram.

Henry married English model Nicole Merry, real name Claire, on 5 July 2003. The ceremony was held at Highclere Castle, and on 27 May 2005 the couple celebrated the birth of their first child, Téa. Henry dedicated his first goal following Téa's birth to her by holding his fingers in a "T" shape and kissing them after scoring in a match against Newcastle United. When Henry was still at Arsenal, he also purchased a home in Hampstead, North London. However, shortly after his transfer to Barcelona, it was announced that Henry and his wife would divorce; the decree nisi was granted in September 2007. Their separation concluded in December 2008 when Henry paid Merry a divorce settlement close to her requested sum of £10 million.

As a fan of the National Basketball Association (NBA), Henry is often seen with his friend Tony Parker at games when not playing football. Henry stated in an interview that he admires basketball, as it is similar to football in pace and excitement. Having made regular trips to the NBA Finals in the past, he went to watch Parker and the San Antonio Spurs in the 2007 NBA Finals; and in the 2001 NBA Finals, he went to Philadelphia to help with French television coverage of the Finals as well as to watch Allen Iverson, whom he named as one of his favourite players.


Career Honours


La Liga
2009-2010
Barcelona

Supercopa de España
2009
Barcelona

UEFA Super Cup
2009
Barcelona

FIFA Club World Cup
2009
Barcelona

La Liga
2008-2009
Barcelona

Copa del Rey
2008-2009
Barcelona

UEFA Champions League
2008-2009
Barcelona

FIFA FIFPro World XI
2006
Arsenal

UEFA Team of the Year
2006
Arsenal

Onze d Or
2006
Arsenal

Premier League Golden Boot
2005-2006
Arsenal

Premier League Player of the Season
2005-2006
Arsenal

FWA Footballer of the Year
2005-2006
Arsenal

Premier League Golden Boot
2004-2005
Arsenal

European Golden Shoe
2004-2005
Arsenal

UEFA Team of the Year
2004
Arsenal

FA Community Shield
2004
Arsenal

Premier League Golden Boot
2003-2004
Arsenal

Premier League Player of the Season
2003-2004
Arsenal

Premier League
2003-2004
Arsenal

PFA Players Player of the Year
2003-2004
Arsenal

FWA Footballer of the Year
2003-2004
Arsenal

European Golden Shoe
2003-2004
Arsenal

UEFA Team of the Year
2003
Arsenal

FIFA Confederations Cup
2003
Arsenal

FA Cup
2002-2003
Arsenal

PFA Players Player of the Year
2002-2003
Arsenal

FWA Footballer of the Year
2002-2003
Arsenal

UEFA Team of the Year
2002
Arsenal

FA Community Shield
2002
Arsenal

Premier League Golden Boot
2001-2002
Arsenal

Premier League
2001-2002
Arsenal

FA Cup
2001-2002
Arsenal

UEFA Team of the Year
2001
Arsenal

UEFA European Championship
2000
Arsenal

FIFA World Cup
1998
Monaco

Trophée des Champions
1997
Monaco

Ligue 1
1996-1997
Monaco

UNFP Ligue 1 Young Player of the Year
1996-1997
Monaco
Career Milestones


UEFA Champions League Hat-Trick
2002-11-27
Former Youth Teams


1992-1994
Former Senior Teams


1995-1999

1997-2010

1999

1999-2007

2007-2010

2010-2014

2012 (Loan)
Former Club Staff


2016-2018
Assistant Manager

2018-2019
Manager

2019-
Manager
Contracts

Fanart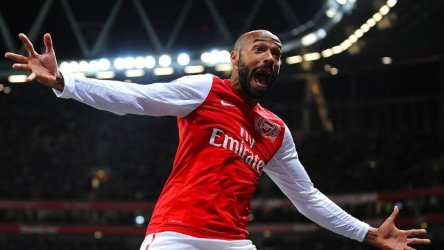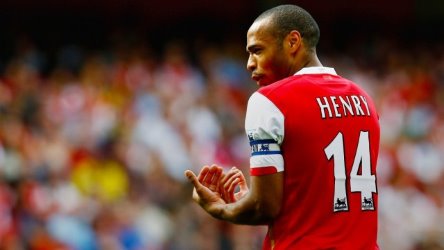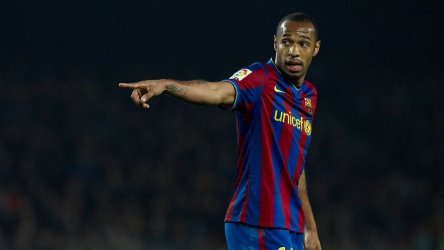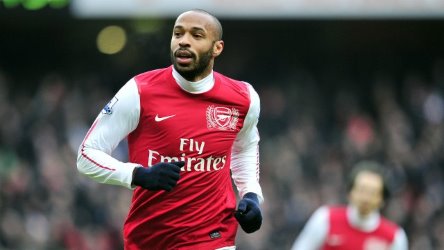 Banner


News Reports
None found...
Statistics





New York Red Bulls
Appearances
American Major League Soccer
2014
35


New York Red Bulls
Assists
American Major League Soccer
2014
17


New York Red Bulls
Goals
American Major League Soccer
2014
10


New York Red Bulls
Mins Played
American Major League Soccer
2014
3,099




New York Red Bulls
Appearances
American Major League Soccer
2013
32


New York Red Bulls
Assists
American Major League Soccer
2013
8


New York Red Bulls
Goals
American Major League Soccer
2013
10


New York Red Bulls
Mins Played
American Major League Soccer
2013
2,729




New York Red Bulls
Appearances
American Major League Soccer
2012
27


New York Red Bulls
Assists
American Major League Soccer
2012
12


New York Red Bulls
Goals
American Major League Soccer
2012
15


New York Red Bulls
Mins Played
American Major League Soccer
2012
2,288




Arsenal
Appearances
UEFA Champions League
2011-2012
1


Arsenal
Appearances
FA Cup
2011-2012
2


Arsenal
Appearances
English Premier League
2011-2012
4


Arsenal
Goals
FA Cup
2011-2012
1


Arsenal
Goals
English Premier League
2011-2012
2


Arsenal
Mins Played
FA Cup
2011-2012
23


Arsenal
Mins Played
UEFA Champions League
2011-2012
44


Arsenal
Mins Played
English Premier League
2011-2012
94




New York Red Bulls
Appearances
American Major League Soccer
2011
29


New York Red Bulls
Assists
American Major League Soccer
2011
3


New York Red Bulls
Goals
American Major League Soccer
2011
15


New York Red Bulls
Mins Played
American Major League Soccer
2011
2,535




France
Appearances
FIFA World Cup
2010
2


France
Appearances
International Friendlies
2010
4


New York Red Bulls
Appearances
American Major League Soccer
2010
12


New York Red Bulls
Assists
American Major League Soccer
2010
2


New York Red Bulls
Goals
American Major League Soccer
2010
2


France
Mins Played
FIFA World Cup
2010
53


France
Mins Played
International Friendlies
2010
183


New York Red Bulls
Mins Played
American Major League Soccer
2010
865




Barcelona
Appearances
Copa del Rey
2009-2010
1


Barcelona
Appearances
FIFA Club World Cup
2009-2010
1


Barcelona
Appearances
UEFA Super Cup
2009-2010
1


Barcelona
Appearances
UEFA Champions League
2009-2010
6


Barcelona
Appearances
Spanish La Liga
2009-2010
21


Barcelona
Assists
UEFA Champions League
2009-2010
1


Barcelona
Assists
Spanish La Liga
2009-2010
3


Barcelona
Goals
Spanish La Liga
2009-2010
4


Barcelona
Mins Played
FIFA Club World Cup
2009-2010
82


Barcelona
Mins Played
Copa del Rey
2009-2010
90


Barcelona
Mins Played
UEFA Super Cup
2009-2010
96


Barcelona
Mins Played
UEFA Champions League
2009-2010
304


Barcelona
Mins Played
Spanish La Liga
2009-2010
1,227




France
Appearances
International Friendlies
2009
1


Barcelona
Appearances
Supercopa de Espana
2009
2


France
Appearances
FIFA World Cup
2009
8


France
Assists
FIFA World Cup
2009
3


France
Goals
FIFA World Cup
2009
3


France
Mins Played
International Friendlies
2009
90


Barcelona
Mins Played
Supercopa de Espana
2009
148


France
Mins Played
FIFA World Cup
2009
698




Barcelona
Appearances
UEFA Champions League
2008-2009
12


Barcelona
Appearances
Spanish La Liga
2008-2009
29


Barcelona
Appearances
Copa del Rey
2008-2009
1


Barcelona
Assists
Spanish La Liga
2008-2009
7


Barcelona
Assists
UEFA Champions League
2008-2009
4


Barcelona
Goals
Spanish La Liga
2008-2009
19


Barcelona
Goals
Copa del Rey
2008-2009
1


Barcelona
Goals
UEFA Champions League
2008-2009
6


Barcelona
Mins Played
Copa del Rey
2008-2009
55


Barcelona
Mins Played
UEFA Champions League
2008-2009
875


Barcelona
Mins Played
Spanish La Liga
2008-2009
2,117




France
Appearances
UEFA European Championships
2008
2


France
Appearances
FIFA World Cup
2008
3


France
Appearances
International Friendlies
2008
6


France
Goals
FIFA World Cup
2008
1


France
Goals
UEFA European Championships
2008
1


France
Goals
International Friendlies
2008
2


France
Mins Played
UEFA European Championships
2008
180


France
Mins Played
FIFA World Cup
2008
270


France
Mins Played
International Friendlies
2008
458




Barcelona
Appearances
Copa del Rey
2007-2008
7


Barcelona
Appearances
UEFA Champions League
2007-2008
10


Barcelona
Appearances
Spanish La Liga
2007-2008
30


Barcelona
Assists
UEFA Champions League
2007-2008
2


Barcelona
Assists
Spanish La Liga
2007-2008
10


Barcelona
Goals
UEFA Champions League
2007-2008
3


Barcelona
Goals
Copa del Rey
2007-2008
4


Barcelona
Goals
Spanish La Liga
2007-2008
12


Barcelona
Mins Played
Copa del Rey
2007-2008
490


Barcelona
Mins Played
UEFA Champions League
2007-2008
716


Barcelona
Mins Played
Spanish La Liga
2007-2008
2,345




France
Appearances
International Friendlies
2007
2


France
Appearances
UEFA European Championships
2007
4


France
Assists
UEFA European Championships
2007
1


France
Goals
International Friendlies
2007
1


France
Goals
UEFA European Championships
2007
4


France
Mins Played
International Friendlies
2007
175


France
Mins Played
UEFA European Championships
2007
360




Arsenal
Appearances
FA Cup
2006-2007
3


Arsenal
Appearances
UEFA Champions League
2006-2007
7


Arsenal
Appearances
English Premier League
2006-2007
17


Arsenal
Assists
FA Cup
2006-2007
1


Arsenal
Assists
UEFA Champions League
2006-2007
1


Arsenal
Assists
English Premier League
2006-2007
3


Arsenal
Goals
FA Cup
2006-2007
1


Arsenal
Goals
UEFA Champions League
2006-2007
1


Arsenal
Goals
English Premier League
2006-2007
10


Arsenal
Mins Played
FA Cup
2006-2007
268


Arsenal
Mins Played
UEFA Champions League
2006-2007
479


Arsenal
Mins Played
English Premier League
2006-2007
1,473




France
Appearances
UEFA European Championships
2006
4


France
Appearances
International Friendlies
2006
5


France
Appearances
FIFA World Cup
2006
7


France
Assists
FIFA World Cup
2006
1


France
Assists
UEFA European Championships
2006
1


France
Assists
International Friendlies
2006
2


France
Goals
UEFA European Championships
2006
2


France
Goals
FIFA World Cup
2006
3


France
Goals
International Friendlies
2006
3


France
Mins Played
UEFA European Championships
2006
331


France
Mins Played
International Friendlies
2006
394


France
Mins Played
FIFA World Cup
2006
635




Arsenal
Appearances
EFL Cup
2005-2006
1


Arsenal
Appearances
UEFA Champions League
2005-2006
11


Arsenal
Appearances
English Premier League
2005-2006
32


Arsenal
Assists
UEFA Champions League
2005-2006
2


Arsenal
Assists
English Premier League
2005-2006
8


Arsenal
Goals
EFL Cup
2005-2006
1


Arsenal
Goals
UEFA Champions League
2005-2006
5


Arsenal
Goals
English Premier League
2005-2006
27


Arsenal
Mins Played
EFL Cup
2005-2006
79


Arsenal
Mins Played
UEFA Champions League
2005-2006
932


Arsenal
Mins Played
English Premier League
2005-2006
2,672




Arsenal
Appearances
FA Community Shield
2005
1


France
Appearances
FIFA World Cup
2005
2


France
Appearances
International Friendlies
2005
4


France
Assists
International Friendlies
2005
2


France
Goals
FIFA World Cup
2005
1


France
Goals
International Friendlies
2005
2


Arsenal
Mins Played
FA Community Shield
2005
90


France
Mins Played
FIFA World Cup
2005
143


France
Mins Played
International Friendlies
2005
296




Arsenal
Appearances
FA Cup
2004-2005
1


Arsenal
Appearances
UEFA Champions League
2004-2005
8


Arsenal
Appearances
English Premier League
2004-2005
32


Arsenal
Assists
FA Cup
2004-2005
1


Arsenal
Assists
English Premier League
2004-2005
14


Arsenal
Goals
UEFA Champions League
2004-2005
5


Arsenal
Goals
English Premier League
2004-2005
25


Arsenal
Mins Played
FA Cup
2004-2005
90


Arsenal
Mins Played
UEFA Champions League
2004-2005
720


Arsenal
Mins Played
English Premier League
2004-2005
2,825




Arsenal
Appearances
FA Community Shield
2004
1


France
Appearances
FIFA World Cup
2004
4


France
Appearances
UEFA European Championships
2004
4


France
Appearances
International Friendlies
2004
5


France
Assists
International Friendlies
2004
1


France
Assists
UEFA European Championships
2004
1


France
Goals
FIFA World Cup
2004
1


France
Goals
UEFA European Championships
2004
2


Arsenal
Mins Played
FA Community Shield
2004
45


France
Mins Played
FIFA World Cup
2004
334


France
Mins Played
International Friendlies
2004
360


France
Mins Played
UEFA European Championships
2004
360




Arsenal
Appearances
FA Cup
2003-2004
3


Arsenal
Appearances
UEFA Champions League
2003-2004
10


Arsenal
Appearances
English Premier League
2003-2004
37


Arsenal
Assists
UEFA Champions League
2003-2004
7


Arsenal
Assists
English Premier League
2003-2004
9


Arsenal
Goals
FA Cup
2003-2004
3


Arsenal
Goals
UEFA Champions League
2003-2004
5


Arsenal
Goals
English Premier League
2003-2004
30


Arsenal
Mins Played
FA Cup
2003-2004
195


Arsenal
Mins Played
UEFA Champions League
2003-2004
889


Arsenal
Mins Played
English Premier League
2003-2004
3,330




Arsenal
Appearances
FA Community Shield
2003
1


France
Appearances
International Friendlies
2003
4


France
Appearances
Confederations Cup
2003
5


France
Appearances
UEFA European Championships
2003
5


France
Assists
International Friendlies
2003
1


France
Assists
Confederations Cup
2003
2


France
Assists
UEFA European Championships
2003
5


Arsenal
Goals
FA Community Shield
2003
1


France
Goals
International Friendlies
2003
3


France
Goals
Confederations Cup
2003
4


France
Goals
UEFA European Championships
2003
4


Arsenal
Mins Played
FA Community Shield
2003
45


France
Mins Played
International Friendlies
2003
261


France
Mins Played
Confederations Cup
2003
379


France
Mins Played
UEFA European Championships
2003
414




Arsenal
Appearances
FA Cup
2002-2003
5


Arsenal
Appearances
UEFA Champions League
2002-2003
12


Arsenal
Appearances
English Premier League
2002-2003
37


Arsenal
Assists
UEFA Champions League
2002-2003
3


Arsenal
Assists
English Premier League
2002-2003
25


Arsenal
Goals
FA Cup
2002-2003
1


Arsenal
Goals
UEFA Champions League
2002-2003
7


Arsenal
Goals
English Premier League
2002-2003
24


Arsenal
Mins Played
FA Cup
2002-2003
225


Arsenal
Mins Played
UEFA Champions League
2002-2003
1,022


Arsenal
Mins Played
English Premier League
2002-2003
3,301




France
Appearances
FIFA World Cup
2002
2


France
Appearances
UEFA European Championships
2002
2


France
Appearances
International Friendlies
2002
6


Arsenal
Appearances
FA Community Shield
2002
1


France
Assists
International Friendlies
2002
2


France
Assists
UEFA European Championships
2002
2


France
Goals
UEFA European Championships
2002
2


France
Goals
International Friendlies
2002
1


Arsenal
Mins Played
FA Community Shield
2002
90


France
Mins Played
FIFA World Cup
2002
115


France
Mins Played
UEFA European Championships
2002
168


France
Mins Played
International Friendlies
2002
416




Arsenal
Appearances
FA Cup
2001-2002
5


Arsenal
Appearances
UEFA Champions League
2001-2002
11


Arsenal
Appearances
English Premier League
2001-2002
33


Arsenal
Assists
FA Cup
2001-2002
3


Arsenal
Assists
English Premier League
2001-2002
6


Arsenal
Goals
FA Cup
2001-2002
1


Arsenal
Goals
UEFA Champions League
2001-2002
7


Arsenal
Goals
English Premier League
2001-2002
24


Arsenal
Mins Played
FA Cup
2001-2002
370


Arsenal
Mins Played
UEFA Champions League
2001-2002
983


Arsenal
Mins Played
English Premier League
2001-2002
2,775




France
Appearances
International Friendlies
2001
7


France
Assists
International Friendlies
2001
5


France
Goals
International Friendlies
2001
3


France
Mins Played
International Friendlies
2001
420




Arsenal
Appearances
FA Cup
2000-2001
4


Arsenal
Appearances
UEFA Champions League
2000-2001
14


Arsenal
Appearances
English Premier League
2000-2001
35


Arsenal
Assists
UEFA Champions League
2000-2001
2


Arsenal
Assists
English Premier League
2000-2001
9


Arsenal
Goals
FA Cup
2000-2001
1


Arsenal
Goals
UEFA Champions League
2000-2001
4


Arsenal
Goals
English Premier League
2000-2001
17


Arsenal
Mins Played
FA Cup
2000-2001
291


Arsenal
Mins Played
UEFA Champions League
2000-2001
1,189


Arsenal
Mins Played
English Premier League
2000-2001
2,589




France
Appearances
UEFA European Championships
2000
5


France
Appearances
International Friendlies
2000
8


France
Assists
UEFA European Championships
2000
1


France
Goals
International Friendlies
2000
2


France
Goals
UEFA European Championships
2000
3


France
Mins Played
UEFA European Championships
2000
470


France
Mins Played
International Friendlies
2000
479




Arsenal
Appearances
EFL Cup
1999-2000
2


Arsenal
Appearances
FA Cup
1999-2000
2


Arsenal
Appearances
UEFA Champions League
1999-2000
4


Arsenal
Appearances
UEFA Cup
1999-2000
8


Arsenal
Appearances
English Premier League
1999-2000
31


Arsenal
Assists
UEFA Cup
1999-2000
1


Arsenal
Assists
English Premier League
1999-2000
8


Arsenal
Goals
EFL Cup
1999-2000
1


Arsenal
Goals
UEFA Champions League
1999-2000
1


Arsenal
Goals
UEFA Cup
1999-2000
7


Arsenal
Goals
English Premier League
1999-2000
17


Arsenal
Mins Played
UEFA Champions League
1999-2000
59


Arsenal
Mins Played
EFL Cup
1999-2000
210


Arsenal
Mins Played
FA Cup
1999-2000
210


Arsenal
Mins Played
UEFA Cup
1999-2000
583


Arsenal
Mins Played
English Premier League
1999-2000
2,249




Juventus
Appearances
Coppa Italia
1998-1999
1


Monaco
Appearances
Coupe de la Ligue
1998-1999
1


Monaco
Appearances
UEFA Cup
1998-1999
5


Monaco
Appearances
French Ligue 1
1998-1999
13


Juventus
Appearances
Italian Serie A
1998-1999
16


Monaco
Goals
French Ligue 1
1998-1999
1


Juventus
Goals
Italian Serie A
1998-1999
3


Monaco
Mins Played
Coupe de la Ligue
1998-1999
20


Juventus
Mins Played
Coppa Italia
1998-1999
90


Monaco
Mins Played
UEFA Cup
1998-1999
217


Monaco
Mins Played
French Ligue 1
1998-1999
756


Juventus
Mins Played
Italian Serie A
1998-1999
1,037




France
Appearances
UEFA European Championships
1998
1


France
Appearances
International Friendlies
1998
3


France
Appearances
FIFA World Cup
1998
6


France
Goals
FIFA World Cup
1998
3


France
Mins Played
UEFA European Championships
1998
23


France
Mins Played
International Friendlies
1998
183


France
Mins Played
FIFA World Cup
1998
366




Monaco
Appearances
Coupe de la Ligue
1997-1998
1


Monaco
Appearances
Coupe de France
1997-1998
3


Monaco
Appearances
UEFA Champions League
1997-1998
9


Monaco
Appearances
French Ligue 1
1997-1998
30


Monaco
Assists
UEFA Champions League
1997-1998
1


Monaco
Goals
French Ligue 1
1997-1998
4


Monaco
Goals
UEFA Champions League
1997-1998
7


Monaco
Mins Played
Coupe de la Ligue
1997-1998
100


Monaco
Mins Played
Coupe de France
1997-1998
230


Monaco
Mins Played
UEFA Champions League
1997-1998
570


Monaco
Mins Played
French Ligue 1
1997-1998
1,711




France
Appearances
International Friendlies
1997
1


France
Mins Played
International Friendlies
1997
90




Monaco
Appearances
Coupe de la Ligue
1996-1997
2


Monaco
Appearances
UEFA Cup
1996-1997
9


Monaco
Appearances
French Ligue 1
1996-1997
36


Monaco
Assists
UEFA Cup
1996-1997
1


Monaco
Goals
UEFA Cup
1996-1997
1


Monaco
Goals
French Ligue 1
1996-1997
9


Monaco
Mins Played
Coupe de la Ligue
1996-1997
185


Monaco
Mins Played
UEFA Cup
1996-1997
363


Monaco
Mins Played
French Ligue 1
1996-1997
2,052




Monaco
Appearances
UEFA Cup
1995-1996
1


Monaco
Appearances
Coupe de la Ligue
1995-1996
3


Monaco
Appearances
French Ligue 1
1995-1996
18


Monaco
Goals
French Ligue 1
1995-1996
3


Monaco
Mins Played
UEFA Cup
1995-1996
19


Monaco
Mins Played
Coupe de la Ligue
1995-1996
111


Monaco
Mins Played
French Ligue 1
1995-1996
615




Monaco
Appearances
French Ligue 1
1994-1995
8


Monaco
Goals
French Ligue 1
1994-1995
3


Monaco
Mins Played
French Ligue 1
1994-1995
279
Other Links