Site
Home /
Sport
/
Soccer
/
Spanish La Liga
/
Villarreal /
Gerard Moreno
Description
Available in:

Gerard Moreno Balagueró (born 7 April 1992) is a Spanish professional footballer who plays as a striker for La Liga club Villarreal and the Spain national team.

In his career, he has played for Villarreal, Mallorca and Espanyol, winning the 2021 Europa League and two Zarra Trophies with the first club.

Moreno made his full debut for Spain in 2019, being part of the squad at UEFA Euro 2020.

Moreno was never capped for Spain at any youth level. He made his senior debut on 15 October 2019, playing the entire 1–1 draw in Sweden for the UEFA Euro 2020 qualifiers. One month later, for the same competition and also as a starter, he scored his first goal in a 7–0 rout of Malta in Cádiz for the already qualified hosts. On 18 November, he added a brace in the 5–0 victory over Romania, being included in Luis Enrique's 24-man squad for the finals on 24 May 2021.




Season Stats
5 appearances in the current 2023-2024 Season
1 goals scored in the current 2023-2024 Season


Career Honours


UEFA Europa League
2020-2021
Villarreal

La Liga Team of the Season
2020-2021
Villarreal
Career MilestonesFormer Youth Teams

| | |
| --- | --- |
| 2001-2007 | 2007-2010 |
Former Senior Teams


2011-2013

2012-2015

2013-2014 (Loan)

2015-2018

2019-
Former Club Staff

Contracts


2018-2023

2022-2027
Fanart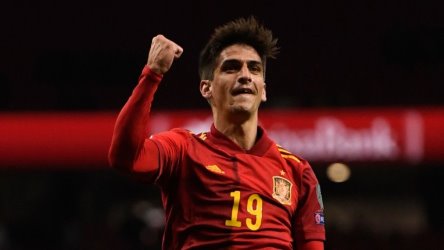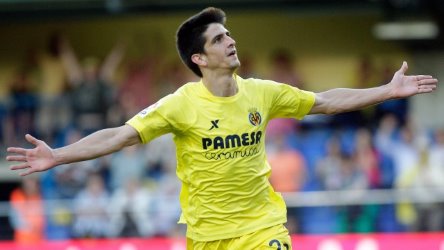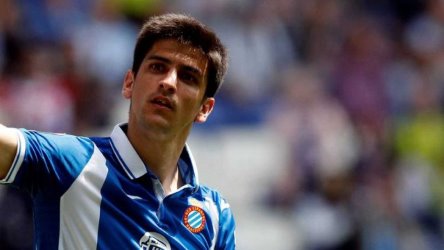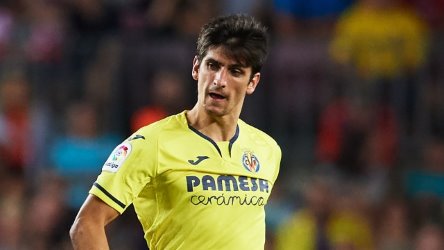 Banner


News Reports
None found...
Statistics





Villarreal
Appearances
Copa del Rey
2019-2020
2


Villarreal
Appearances
Spanish La Liga
2019-2020
35


Villarreal
Assists
Spanish La Liga
2019-2020
5


Villarreal
Goals
Copa del Rey
2019-2020
2


Villarreal
Goals
Spanish La Liga
2019-2020
18


Villarreal
Mins Played
Copa del Rey
2019-2020
164


Villarreal
Mins Played
Spanish La Liga
2019-2020
2,755




Villarreal
Appearances
Copa del Rey
2018-2019
3


Villarreal
Appearances
Spanish La Liga
2018-2019
35


Villarreal
Appearances
UEFA Europa League
2018-2019
11


Villarreal
Assists
Copa del Rey
2018-2019
1


Villarreal
Assists
Spanish La Liga
2018-2019
1


Villarreal
Assists
UEFA Europa League
2018-2019
1


Villarreal
Goals
Copa del Rey
2018-2019
1


Villarreal
Goals
Spanish La Liga
2018-2019
8


Villarreal
Goals
UEFA Europa League
2018-2019
4


Villarreal
Mins Played
Copa del Rey
2018-2019
60


Villarreal
Mins Played
Spanish La Liga
2018-2019
2,314


Villarreal
Mins Played
UEFA Europa League
2018-2019
712




Espanol
Appearances
Copa del Rey
2017-2018
6


Espanol
Appearances
Spanish La Liga
2017-2018
38


Espanol
Assists
Copa del Rey
2017-2018
1


Espanol
Assists
Spanish La Liga
2017-2018
1


Espanol
Goals
Copa del Rey
2017-2018
3


Espanol
Goals
Spanish La Liga
2017-2018
16


Espanol
Mins Played
Copa del Rey
2017-2018
471


Espanol
Mins Played
Spanish La Liga
2017-2018
3,413




Espanol
Appearances
Copa del Rey
2016-2017
1


Espanol
Appearances
Spanish La Liga
2016-2017
37


Espanol
Assists
Spanish La Liga
2016-2017
4


Espanol
Goals
Spanish La Liga
2016-2017
13


Espanol
Mins Played
Copa del Rey
2016-2017
120


Espanol
Mins Played
Spanish La Liga
2016-2017
3,280




Espanol
Appearances
Copa del Rey
2015-2016
4


Espanol
Appearances
Spanish La Liga
2015-2016
32


Espanol
Assists
Spanish La Liga
2015-2016
3


Espanol
Goals
Spanish La Liga
2015-2016
7


Espanol
Mins Played
Copa del Rey
2015-2016
243


Espanol
Mins Played
Spanish La Liga
2015-2016
1,914




Villarreal
Appearances
UEFA Europa League
2014-2015
7


Villarreal
Appearances
Spanish La Liga
2014-2015
26


Villarreal
Appearances
Copa del Rey
2014-2015
6


Villarreal
Assists
UEFA Europa League
2014-2015
1


Villarreal
Assists
Spanish La Liga
2014-2015
3


Villarreal
Assists
Copa del Rey
2014-2015
1


Villarreal
Goals
UEFA Europa League
2014-2015
4


Villarreal
Goals
Spanish La Liga
2014-2015
7


Villarreal
Goals
Copa del Rey
2014-2015
5


Villarreal
Mins Played
UEFA Europa League
2014-2015
492


Villarreal
Mins Played
Spanish La Liga
2014-2015
1,619


Villarreal
Mins Played
Copa del Rey
2014-2015
518




Mallorca
Appearances
Spanish Adelante
2013-2014
31


Mallorca
Appearances
Copa del Rey
2013-2014
1


Mallorca
Assists
Spanish Adelante
2013-2014
7


Mallorca
Goals
Spanish Adelante
2013-2014
11


Mallorca
Goals
Copa del Rey
2013-2014
1


Mallorca
Mins Played
Spanish Adelante
2013-2014
2,235


Mallorca
Mins Played
Copa del Rey
2013-2014
44




Villarreal
Appearances
Spanish Adelante
2012-2013
14


Villarreal B
Appearances
Spanish Segunda División B Group 3
2012-2013
24


Villarreal
Assists
Spanish Adelante
2012-2013
2


Villarreal
Goals
Spanish Adelante
2012-2013
3


Villarreal B
Goals
Spanish Segunda División B Group 3
2012-2013
12


Villarreal
Mins Played
Spanish Adelante
2012-2013
630


Villarreal B
Mins Played
Spanish Segunda División B Group 3
2012-2013
2,101




Villarreal B
Appearances
Spanish Adelante
2011-2012
4


Villarreal B
Goals
Spanish Adelante
2011-2012
1


Villarreal B
Mins Played
Spanish Adelante
2011-2012
83




Villarreal B
Appearances
Spanish Adelante
2010-2011
1


Villarreal B
Mins Played
Spanish Adelante
2010-2011
6
Other Links