Site
Home /
Sport
/
Soccer
/
Italian Serie A
/
Cagliari /
Joao Pedro Galvao
Description
Available in:


João Pedro Geraldino dos Santos Galvão (born 9 March 1992), commonly known as João Pedro, is a Brazilian professional footballer who plays as an attacking midfielder for Serie A club Cagliari.

He spent most of his career with Cagliari after signing in 2014, and made over 200 appearances and scored over 60 goals for the club. Additionally, he had brief spells in the top divisions of Brazil, Portugal and Uruguay.




Player Goals
















14 in the current 2020-2021 Season

Career Honours


None Found...


Former Youth Teams


None Found...


Former Senior Teams


2010-2010

2010-2012

2011-2011 (Loan)

2011-2012 (Loan)

2012-2013

2013-2014
Former Club Staff

None Found...
Contracts

| | | | |
| --- | --- | --- | --- |
| 2014-2019 | | 2019-2023 | |
Fanart

Banner
Statistics





Cagliari
Appearances
Coppa Italia
2019-2020
3


Cagliari
Appearances
Italian Serie A
2019-2020
36


Cagliari
Assists
Italian Serie A
2019-2020
4


Cagliari
Goals
Coppa Italia
2019-2020
1


Cagliari
Goals
Italian Serie A
2019-2020
18


Cagliari
Mins Played
Coppa Italia
2019-2020
107


Cagliari
Mins Played
Italian Serie A
2019-2020
3,156




Cagliari
Appearances
Coppa Italia
2018-2019
2


Cagliari
Appearances
Italian Serie A
2018-2019
34


Cagliari
Assists
Italian Serie A
2018-2019
3


Cagliari
Goals
Italian Serie A
2018-2019
7


Cagliari
Mins Played
Coppa Italia
2018-2019
114


Cagliari
Mins Played
Italian Serie A
2018-2019
2,573




Cagliari
Appearances
Coppa Italia
2017-2018
2


Cagliari
Appearances
Italian Serie A
2017-2018
22


Cagliari
Assists
Italian Serie A
2017-2018
1


Cagliari
Goals
Coppa Italia
2017-2018
1


Cagliari
Goals
Italian Serie A
2017-2018
5


Cagliari
Mins Played
Coppa Italia
2017-2018
124


Cagliari
Mins Played
Italian Serie A
2017-2018
1,664




Cagliari
Appearances
Italian Serie A
2016-2017
22


Cagliari
Assists
Italian Serie A
2016-2017
3


Cagliari
Goals
Italian Serie A
2016-2017
7


Cagliari
Mins Played
Italian Serie A
2016-2017
1,458




Cagliari
Appearances
Coppa Italia
2015-2016
3


Cagliari
Appearances
Italian Serie B
2015-2016
38


Cagliari
Assists
Coppa Italia
2015-2016
1


Cagliari
Assists
Italian Serie B
2015-2016
7


Cagliari
Goals
Italian Serie B
2015-2016
13


Cagliari
Mins Played
Coppa Italia
2015-2016
287


Cagliari
Mins Played
Italian Serie B
2015-2016
2,818




Cagliari
Appearances
Coppa Italia
2014-2015
1


Cagliari
Appearances
Italian Serie A
2014-2015
29


Estoril-Praia
Appearances
Portuguese Primeira Liga
2014-2015
3


Cagliari
Assists
Italian Serie A
2014-2015
2


Cagliari
Goals
Italian Serie A
2014-2015
5


Estoril-Praia
Goals
Portuguese Primeira Liga
2014-2015
1


Cagliari
Mins Played
Coppa Italia
2014-2015
120


Cagliari
Mins Played
Italian Serie A
2014-2015
1,497


Estoril-Praia
Mins Played
Portuguese Primeira Liga
2014-2015
204




Estoril-Praia
Appearances
Taca de Liga
2013-2014
3


Estoril-Praia
Appearances
Taca de Liga
2013-2014
4


Estoril-Praia
Appearances
UEFA Europa League
2013-2014
10


Estoril-Praia
Appearances
Portuguese Primeira Liga
2013-2014
24


Estoril-Praia
Assists
UEFA Europa League
2013-2014
2


Estoril-Praia
Assists
Portuguese Primeira Liga
2013-2014
3


Estoril-Praia
Goals
Taca de Liga
2013-2014
1


Estoril-Praia
Goals
Portuguese Primeira Liga
2013-2014
8


Estoril-Praia
Mins Played
Taca de Liga
2013-2014
162


Estoril-Praia
Mins Played
Taca de Liga
2013-2014
183


Estoril-Praia
Mins Played
UEFA Europa League
2013-2014
599


Estoril-Praia
Mins Played
Portuguese Primeira Liga
2013-2014
1,292




Peñarol
Appearances
Copa Libertadores
2012
8


Peñarol
Appearances
Uruguayan Primera Division
2012
15


Santos FC
Appearances
Brazilian Serie A
2012
10


Peñarol
Assists
Copa Libertadores
2012
1


Peñarol
Assists
Uruguayan Primera Division
2012
6


Peñarol
Goals
Copa Libertadores
2012
1


Peñarol
Goals
Uruguayan Primera Division
2012
6


Peñarol
Mins Played
Copa Libertadores
2012
260


Peñarol
Mins Played
Uruguayan Primera Division
2012
1,136


Santos FC
Mins Played
Brazilian Serie A
2012
178




Guimaraes
Appearances
Portuguese Primeira Liga
2010-2011
6


Palermo
Appearances
Italian Serie A
2010-2011
1


Palermo
Appearances
UEFA Europa League
2010-2011
3


Guimaraes
Mins Played
Portuguese Primeira Liga
2010-2011
235


Palermo
Mins Played
Italian Serie A
2010-2011
20


Palermo
Mins Played
UEFA Europa League
2010-2011
115




Atletico MG
Appearances
Copa Sudamericana
2010
2


Atletico MG
Appearances
Brazilian Serie A
2010
11


Atletico MG
Mins Played
Copa Sudamericana
2010
180


Atletico MG
Mins Played
Brazilian Serie A
2010
551
Latest Season
36 Appearances
4 Assists
18 Goals
3,156 Mins Played
Previous Season
34 Appearances
3 Assists
7 Goals
2,573 Mins Played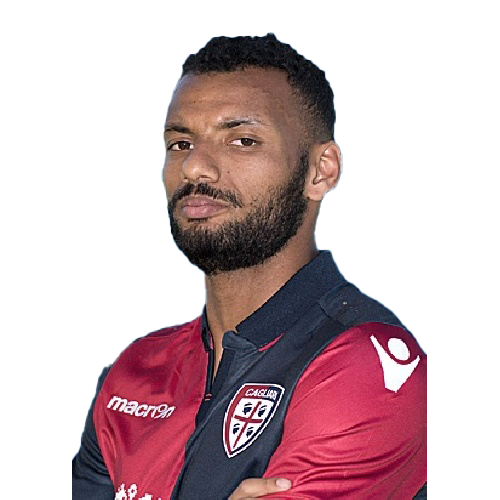 Other Links