Site
Home /
Sport /
Golf
/
PGA Tour Champions
Logo
Upcoming Events

KitchenAid Senior PGA Championship (27 May 2021)


Principal Charity Classic (04 Jun 2021)


American Family Insurance Championship (11 Jun 2021)


Bridgestone SENIOR PLAYERS Championship (24 Jun 2021)


DICKS Sporting Goods Open (02 Jul 2021)


U.S. Senior Open Championship (08 Jul 2021)


The Senior Open Championship presented by Rolex (22 Jul 2021)


Shaw Charity Classic (13 Aug 2021)


Boeing Classic (20 Aug 2021)


The Ally Challenge (27 Aug 2021)

Latest Results


Mitsubishi Electric Classic (14 May 2021)


Regions Tradition (06 May 2021)


Insperity Invitational (30 Apr 2021)


Chubb Classic (16 Apr 2021)


Cologuard Classic (26 Feb 2021)


Mitsubishi Electric Championship at Hualalai (21 Jan 2021)


PNC Championship (20 Dec 2020)


Charles Schwab Cup Championship (08 Nov 2020)


TimberTech Championship (01 Nov 2020)


Dominion Energy Charity Classic (18 Oct 2020)

Description
Available in:

PGA Tour Champions (formerly the Senior PGA Tour and the Champions Tour) is a men's professional senior golf tour, administered as a branch of the PGA Tour.
The Senior PGA Championship, founded in 1937, was for many years the only high-profile tournament for golfers over 50. The idea for a senior tour grew out of a highly successful event in 1978, the Legends of Golf at Onion Creek Club in Austin, Texas, which featured competition between two-member teams of some of the greatest older golfers of that day. The tour was formally established in 1980 and was originally known as the Senior PGA Tour until October 2002. The tour was then renamed the Champions Tour through the 2015 season, after which the current name of "PGA Tour Champions" was adopted.
Most of the tournaments are played over three rounds (54 holes), which is one round fewer than regular professional stroke play tournaments on the PGA Tour. Because of this and having smaller fields (81 golfers), there are generally no "cuts" between any of the rounds. However, the five senior majors have a full 72 holes (four rounds) with a 36-hole cut. Until 2015, the season-ending Charles Schwab Cup Championship, with a limited field of 36, was played over 72 holes with no cut. Since 2016, it has been played over 54 holes with no cut. A golfer's performances can be quite variable from one round to the next, and playing an extra round increases the likelihood that the senior majors will be won by leading players.


SeasonsTeamsKey
(

) Missing Artwork
(- 4) Missing 4 Players: Data and Artwork
(

) Team Complete
Trophy Icon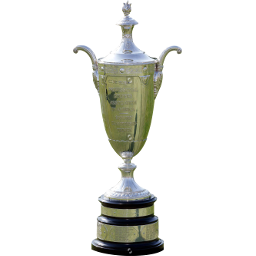 Fanart
Banner

Other Links