Site
Home /
Sport /
Rugby
/
Six Nations Championship
Logo
Upcoming Events
05 Feb 22
Ireland Rugby
&nbsp
-
Wales Rugby
05 Feb 22
Scotland Rugby
&nbsp
-
England Rugby
06 Feb 22
France Rugby
&nbsp
-
Italy Rugby
12 Feb 22
France Rugby
&nbsp
-
Ireland Rugby
12 Feb 22
Wales Rugby
&nbsp
-
Scotland Rugby
13 Feb 22
Italy Rugby
&nbsp
-
England Rugby
26 Feb 22
England Rugby
&nbsp
-
Wales Rugby
26 Feb 22
Scotland Rugby
&nbsp
-
France Rugby
27 Feb 22
Ireland Rugby
&nbsp
-
Italy Rugby
11 Mar 22
Wales Rugby
&nbsp
-
France Rugby



Latest Results
26 Mar 21
France Rugby&nbsp
23 - 27
&nbsp
Scotland Rugby
20 Mar 21
Scotland Rugby&nbsp
52 - 10
&nbsp
Italy Rugby
20 Mar 21
Ireland Rugby&nbsp
32 - 18
&nbsp
England Rugby
20 Mar 21
France Rugby&nbsp
32 - 30
&nbsp
Wales Rugby
14 Mar 21
Scotland Rugby&nbsp
24 - 27
&nbsp
Ireland Rugby
13 Mar 21
Italy Rugby&nbsp
7 - 48
&nbsp
Wales Rugby
13 Mar 21
England Rugby&nbsp
23 - 20
&nbsp
France Rugby
27 Feb 21
Italy Rugby&nbsp
10 - 48
&nbsp
Ireland Rugby
27 Feb 21
Wales Rugby&nbsp
40 - 24
&nbsp
England Rugby
14 Feb 21
Ireland Rugby&nbsp
13 - 15
&nbsp
France Rugby
Description
Available in:

The Six Nations Championship (known as the Guinness Six Nations for sponsorship reasons) is an annual international rugby union competition between the teams of England, France, Ireland, Italy, Scotland, and Wales. These are currently the six highest-ranked teams in Europe although participation in the championship is based on historical membership, not ranking. The current champions are Wales, who won the 2019 tournament.

The Six Nations is the successor to the Home Nations Championship (1883–1909 and 1932–39), played between teams from England, Ireland, Scotland, and Wales, which was the first international rugby union tournament. With the addition of France, this became the Five Nations Championship (1910–31 and 1947–99), which in turn became the Six Nations Championship with the addition of Italy.

England hold the record for outright wins with 28. Since the Six Nations era started in 2000, only Italy and Scotland have failed to win the Six Nations title.


SeasonsTeams

England Rugby


France Rugby


Ireland Rugby


Italy Rugby


Scotland Rugby


Wales Rugby
Key
(

) Missing Artwork
(- 4) Missing 4 Players: Data and Artwork
(

) Team Complete
Trophy Icon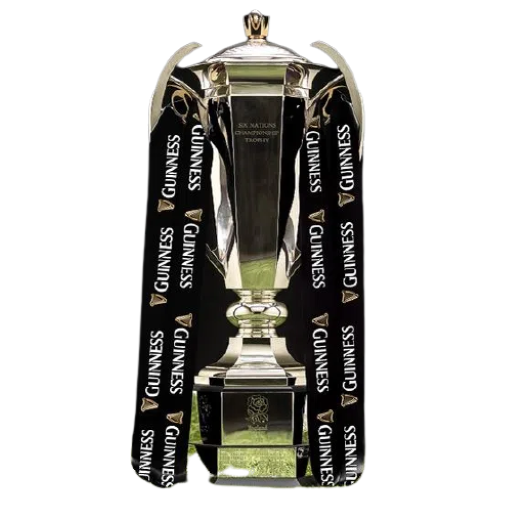 Fanart
Banner

Other Links