Site
Home /
Sport /
Soccer
/
FA Community Shield
Logo
Upcoming Events

Latest Results
None Found...

04 Aug 19
Liverpool&nbsp
1 - 1
&nbsp
Man City
05 Aug 18
Chelsea&nbsp
0 - 2
&nbsp
Man City
06 Aug 17
Arsenal&nbsp
1 - 1
&nbsp
Chelsea
07 Aug 16
Leicester&nbsp
1 - 2
&nbsp
Man United
02 Aug 15
Arsenal&nbsp
1 - 0
&nbsp
Chelsea
10 Aug 14
Arsenal&nbsp
3 - 0
&nbsp
Man City
11 Aug 13
Man United&nbsp
2 - 0
&nbsp
Wigan
12 Aug 12
Chelsea&nbsp
2 - 3
&nbsp
Man City
07 Aug 11
Man City&nbsp
2 - 3
&nbsp
Man United
08 Aug 10
Chelsea&nbsp
1 - 3
&nbsp
Man United
Description
Available in:

The Football Association Community Shield (formerly the Charity Shield) is English football's annual match contested between the champions of the previous Premier League season and the holders of the FA Cup at Wembley Stadium. If the Premier League champions also won the FA Cup then the league runners-up provide the opposition. The fixture is recognised as a competitive super cup by the Football Association.

Organised by the FA, proceeds from the game are distributed to community initiatives and charities around the country. Revenue from the gate receipts and match programme sales is distributed to the 124 clubs who competed in The FA Cup from the First Round onwards, for onward distribution to charities and projects of their choice, while the remainder is distributed to the FA's national charity partners. The fixture was first played in the 1908–09 season, replacing the Sheriff of London Charity Shield.

The current holders are Manchester City, who defeated Liverpool 5–4 on penalties after a 1–1 draw in the 2019 match.


Seasons

2009

2011

2012

2013

2014

2015

2016

2017

2018

2019
TeamsKey
(

) Missing Artwork
(- 4) Missing 4 Players: Data and Artwork
(

) Team Complete
Trophy Icon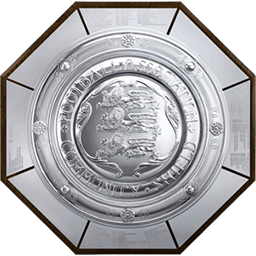 Fanart

Banner
Other Links