Name
UEFA European Championships
Badge
Archive
Poster
Established
1958 (65 years old)
First Recorded Event
1960-07-06
Current Season
2023-2024
API Football ID
4940
Sport

Soccer
Location
Europe
Gender
Male
Alternate Names
EURO2020
EURO2024
UEFA Euro
TV Rights
US - ESPN [2018-2022]
US (Español) - Univision [2021]
Last Edit

Site
Home /
Sport /
Soccer
/
UEFA European Championships
Logo
Upcoming Events
12 Oct 23
Spain
&nbsp
-
Scotland
12 Oct 23
Cyprus
&nbsp
-
Norway
12 Oct 23
Croatia
&nbsp
-
Turkey
12 Oct 23
Latvia
&nbsp
-
Armenia
12 Oct 23
Albania
&nbsp
-
Czech Republic
12 Oct 23
Faroe Islands
&nbsp
-
Poland
12 Oct 23
Israel
&nbsp
-
Switzerland
12 Oct 23
Andorra
&nbsp
-
Kosovo
12 Oct 23
Belarus
&nbsp
-
Romania
13 Oct 23
Netherlands
&nbsp
-
France



Latest Results
12 Sep 23
Romania&nbsp
2 - 0
&nbsp
Kosovo
12 Sep 23
Israel&nbsp
1 - 0
&nbsp
Belarus
12 Sep 23
Switzerland&nbsp
3 - 0
&nbsp
Andorra
12 Sep 23
Sweden&nbsp
1 - 3
&nbsp
Austria
12 Sep 23
Belgium&nbsp
5 - 0
&nbsp
Estonia
12 Sep 23
Malta&nbsp
0 - 2
&nbsp
FYR Macedonia
12 Sep 23
Italy&nbsp
2 - 1
&nbsp
Ukraine
12 Sep 23
Spain&nbsp
6 - 0
&nbsp
Cyprus
12 Sep 23
Norway&nbsp
2 - 1
&nbsp
Georgia
11 Sep 23
Slovakia&nbsp
3 - 0
&nbsp
Liechtenstein
Description
Available in:


The UEFA European Championship (known informally as the Euros) is the primary association football competition contested by the senior men's national teams of the members of the Union of European Football Associations (UEFA), determining the continental champion of Europe. Held every four years since 1960, in the even-numbered year between World Cup tournaments, it was originally called the UEFA European Nations' Cup, changing to the current name in 1968. Starting with the 1996 tournament, specific championships are often referred to in the form "UEFA Euro "; this format has since been retroactively applied to earlier tournaments.

Prior to entering the tournament all teams other than the host nations (which qualify automatically) compete in a qualifying process. The championship winners earn the opportunity to compete in the following FIFA Confederations Cup, but are not obliged to do so.

The 15 European Championship tournaments have been won by ten national teams: Germany and Spain each have won three titles, France has two titles, and Soviet Union, Italy, Czechoslovakia, Netherlands, Denmark, Greece and Portugal have won one title each. To date, Spain is the only team in history to have won consecutive titles, doing so in 2008 and 2012. It is the second most watched football tournament in the world after the FIFA World Cup. The Euro 2012 final was watched by a global audience of around 300 million.

The most recent championship, hosted by France in 2016, was won by Portugal, who beat France 1–0 in the final at the Stade de France in Saint-Denis after extra time. The final also attracted 284 million viewers which is the second most viewed game in European tournament history.




Seasons


1960

1964

1968

1972

1976

1980

1984

1988

1992

1996

2000

2004

2008

2012

2016

2018-2019

2019-2020

2021

2022-2023

2023-2024
Teams

Albania


Andorra


Armenia


Austria


Azerbaijan


Belarus


Belgium


Bosnia-Herzegov


Bulgaria


Croatia


Cyprus


Czech Republic


Denmark


England


Estonia


Faroe Islands


Finland


France


Georgia


Germany


Gibraltar


Greece


Hungary


Iceland


Ireland


Israel


Italy


Kazakhstan


Kosovo


Latvia


Liechtenstein


Lithuania


Luxembourg


Malta


Moldova


Montenegro


N.Ireland


Netherlands


North Macedonia


Norway


Poland


Portugal


Romania


Russia


San Marino


Scotland


Serbia


Slovakia


Slovenia


Spain


Sweden


Switzerland


Turkey


Ukraine


Wales
Key
(

) Missing Artwork
(- 4) Missing 4 Players: Data and Artwork
(

) Team Complete
Trophy Icon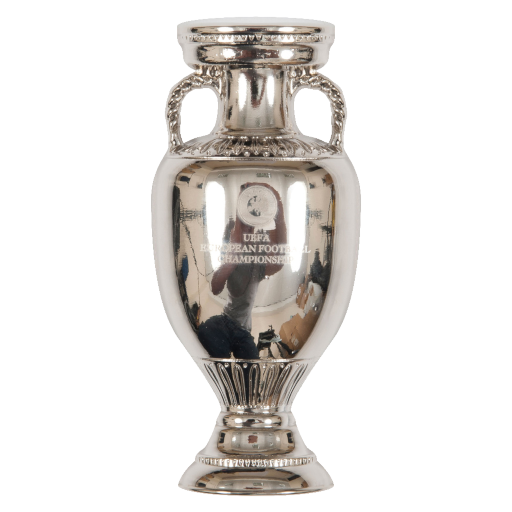 Fanart
Banner

Other Links