Name
Copa America
Badge
Poster
Established
1916 (106 years old)
First Recorded Event
2016-06-03
Current Season
2022
API Football ID
1321
Sport

Soccer
Location
Brazil
Gender
Male
Alternate NamesTV Rights
US - Fox Sports [2021-2026]
US (Español) - Univision [2021]
Last Edit

Site
Home /
Sport /
Soccer
/
Copa America
Logo
Upcoming Events
None Found...


Latest Results
11 Jul 21
Argentina&nbsp
1 - 0
&nbsp
Brazil
10 Jul 21
Peru&nbsp
3 - 2
&nbsp
Colombia
07 Jul 21
Argentina&nbsp
1 - 1
&nbsp
Colombia
05 Jul 21
Brazil&nbsp
1 - 0
&nbsp
Peru
04 Jul 21
Argentina&nbsp
3 - 0
&nbsp
Ecuador
03 Jul 21
Uruguay&nbsp
0 - 0
&nbsp
Colombia
03 Jul 21
Brazil&nbsp
1 - 0
&nbsp
Chile
02 Jul 21
Peru&nbsp
3 - 3
&nbsp
Paraguay
29 Jun 21
Bolivia&nbsp
1 - 4
&nbsp
Argentina
29 Jun 21
Uruguay&nbsp
1 - 0
&nbsp
Paraguay
Description
Available in:


Copa América (America Cup), known until 1975 as the South American Football Championship (Campeonato Sudamericano de Fútbol in Spanish and Campeonato Sul-americano de Futebol (Portugal) ou Copa Sul-Americana de Futebol (Brazil) in Portuguese), is a men's international football tournament contested between national teams from CONMEBOL. It is the oldest international continental football competition. The competition determines the continental champion of South America. Since the 1990s, teams from North America and Asia have also been invited to participate.

Since 1993, the tournament has generally featured 12 teams – all 10 CONMEBOL teams and two additional teams from other confederations. Mexico has participated in every tournament since 1993, with one additional team drawn from CONCACAF, except for 1999, when AFC team Japan filled out the 12-team roster. The 2016 version of the event, Copa América Centenario, featured sixteen teams, with six teams from CONCACAF in addition to the 10 from CONMEBOL. Mexico's two runner-up finishes are the highest for a non-CONMEBOL side.

Eight of the ten CONMEBOL national teams have won the tournament at least once in its 45 stagings since the event's inauguration in 1916, with only Ecuador and Venezuela yet to win. Uruguay has the most championships in the tournament's history, with 15 cups, while the current champion, Chile, has two cups. Argentina, which hosted the inaugural edition in 1916, has hosted the tournament the most times (nine). The United States is the only non-CONMEBOL country to host, having hosted the event in 2016. On three occasions (in 1975, 1979, and 1983), the tournament was held in multiple South American countries.

The highest finishing member of CONMEBOL has the right to participate in the next edition of the FIFA Confederations Cup, but is not obliged to do so.


SeasonsTeams

Argentina


Bolivia -9


Brazil


Chile -5


Colombia -2


Ecuador -5


Paraguay -9


Peru -9


Uruguay


Venezuela -10
Key
(

) Missing Artwork
(- 4) Missing 4 Players: Data and Artwork
(

) Team Complete
Trophy Icon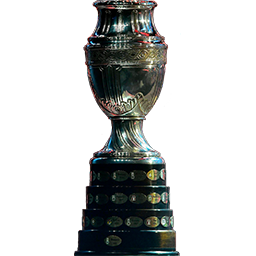 Fanart
Banner

Other Links