Site
Home /
Sport /
Fighting
/
Impact Wrestling
Logo
Upcoming Events

Xplosion #858 (28 Feb 2021)


#865 (03 Mar 2021)


Xplosion #859 (07 Mar 2021)


#866 (10 Mar 2021)


Xplosion #860 (14 Mar 2021)


#867 (17 Mar 2021)


Xplosion #861 (21 Mar 2021)


#868 (24 Mar 2021)


Xplosion #862 (28 Mar 2021)


#869 (31 Mar 2021)

Latest Results


#864 (24 Feb 2021)


Xplosion #857 (21 Feb 2021)


#863 (17 Feb 2021)


Xplosion #856 (14 Feb 2021)


No Surrender 2021 (14 Feb 2021)


#862 (10 Feb 2021)


Xplosion #855 (07 Feb 2021)


#861 (03 Feb 2021)


Xplosion #854 (31 Jan 2021)


#860 (27 Jan 2021)

Description
Available in:









Impact Wrestling (stylized as IMPACT! Wrestling) is an American professional wrestling promotion founded in Nashville, Tennessee. The promotion operates via its parent company Anthem Wrestling Exhibitions, LLC, a subsidiary of Anthem Sports & Entertainment.

Founded by Jeff and Jerry Jarrett in 2002, the promotion was initially known as NWA: Total Nonstop Action (NWA-TNA) and was associated with the National Wrestling Alliance (NWA). It withdrew from the NWA in 2004 and became known as Total Nonstop Action Wrestling (TNA), but it continued to use the NWA World Heavyweight and Tag Team championships as part of an agreement with the NWA. After the agreement ended in 2007, the company created its own TNA World Heavyweight and TNA World Tag Team championships. The promotion was purchased by Anthem at the beginning of 2017 and, in March of that year, was fully rebranded under its current name after its main television series.

From its inception, the promotion had been considered the second-largest in the United States behind WWE. Impact was viewed by some to have fallen behind longtime rival Ring of Honor in 2017, with the loss of their U.S. television contract with Spike in 2014, as well as monetary and personnel issues, being noted as factors to their decline. Since 2019, however, Impact has been thought by many to have recovered, through its sustained international television distribution, and the purchase by its parent company of AXS TV, which subsequently began carrying Impact programming. Though, with the formation of All Elite Wrestling (AEW) that year, and that promotion's high-profile U.S television deal with TNT (which is seen in more households than AXS), Impact is still viewed as a smaller promotion by comparison.


Seasons

2005

2010

2011

2012

2013

2014

2015

2016

2018

2019

2020

2021
Teams
| | | | |
| --- | --- | --- | --- |
| Impact Womens -9 | | TNA Mens | |
Key
(

) Missing Artwork
(- 4) Missing 4 Players: Data and Artwork
(

) Team Complete
Trophy Icon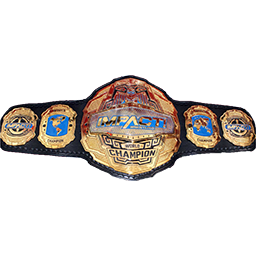 Fanart

Banner

Other Links