Site
Home /
Sport /
Rugby
/
English Rugby League Super League
Logo
Upcoming Events
16 Feb 23
Warrington Wolv
&nbsp
-
Leeds Rhinos
17 Feb 23
Wakefield Trini
&nbsp
-
Catalans Dragon
17 Feb 23
Leigh Centurion
&nbsp
-
Salford Red Dev
17 Feb 23
St Helens
&nbsp
-
Huddersfield Gi
18 Feb 23
Hull Kingston R
&nbsp
-
Wigan Warriors
19 Feb 23
Hull F.C.
&nbsp
-
Castleford Tige
23 Feb 23
Leeds Rhinos
&nbsp
-
Hull F.C.
24 Feb 23
Huddersfield Gi
&nbsp
-
Warrington Wolv
24 Feb 23
Salford Red Dev
&nbsp
-
Hull Kingston R
24 Feb 23
Wigan Warriors
&nbsp
-
Wakefield Trini



Latest Results
24 Sep 22
St Helens&nbsp
24 - 12
&nbsp
Leeds Rhinos
17 Sep 22
St Helens&nbsp
19 - 12
&nbsp
Salford Red Dev
16 Sep 22
Wigan Warriors&nbsp
8 - 20
&nbsp
Leeds Rhinos
10 Sep 22
Huddersfield Gi&nbsp
0 - 28
&nbsp
Salford Red Dev
09 Sep 22
Catalans Dragon&nbsp
10 - 20
&nbsp
Leeds Rhinos
03 Sep 22
St Helens&nbsp
36 - 16
&nbsp
Toulouse Olympi
03 Sep 22
Leeds Rhinos&nbsp
14 - 8
&nbsp
Castleford Tige
03 Sep 22
Hull F.C.&nbsp
4 - 36
&nbsp
Hull Kingston R
03 Sep 22
Salford Red Dev&nbsp
14 - 32
&nbsp
Warrington Wolv
02 Sep 22
Wigan Warriors&nbsp
48 - 4
&nbsp
Catalans Dragon
Description
Available in:


Super League (currently known as the Betfred Super League for sponsorship reasons) is the top-level professional rugby league club competition in the Northern Hemisphere. The league has twelve teams: ten from England, one from France and one from Canada.

Super League began in 1996, replacing the First Division and switching from a winter to a summer season. Each team plays 29 games between February and September: 11 home games, 11 away games, Magic Weekend and an additional 6 'loop fixtures' decided by league positions. The top five then enter the play-off series leading to the Grand Final which determines the champions. The bottom team is relegated to the Championship.

The Super League champions play the National Rugby League champions from Australasia in the World Club Challenge at the start of the season.




Seasons


2010

2011

2012

2013

2014

2015

2017

2018

2019

2020

2021

2022

2023
Teams

Castleford Tigers


Catalans Dragons


Huddersfield Gian


Hull F.C.


Hull Kingston Rov


Leeds Rhinos


Leigh Centurion


Salford Red Devil


St Helens


Wakefield Trinity


Warrington Wolves


Wigan Warriors
Key
(

) Missing Artwork
(- 4) Missing 4 Players: Data and Artwork
(

) Team Complete
Trophy Icon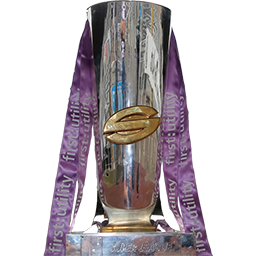 Fanart
Banner

Other Links