Site
Home /
Sport /
Motorsport
/
NASCAR Cup Series
Logo
Upcoming Events
None Found...

Latest Results

NASCAR Cup Series Championship (06 Nov 2022)

Xfinity 500 (30 Oct 2022)

Dixie Vodka 400 (23 Oct 2022)

South Point 400 (16 Oct 2022)

Bank of America ROVAL 400 (09 Oct 2022)

YellaWood 500 (02 Oct 2022)

AutoTrader EchoPark Automotive 500 (25 Sep 2022)

Bass Pro Shops Night Race (17 Sep 2022)

Hollywood Casino 400 (11 Sep 2022)

Southern 500 (04 Sep 2022)
Description
Available in:



The NASCAR Sprint Cup Series (often shortened to Sprint Cup or the Cup Series) is the top racing series of the National Association for Stock Car Auto Racing (NASCAR). The series is named for its current sponsor, the Sprint Corporation, and has been known by other names in the past. It was originally known as the Strictly Stock Series (1949) and shortly became the Grand National Series (1950–1970). While leasing its naming rights to R. J. Reynolds Tobacco Company, it was known as the Winston Cup Series (1971–2003). A similar deal was made with NEXTEL in 2003, becoming the NEXTEL Cup Series (2004–2007) and it became the Sprint Cup after Sprint acquired NEXTEL in 2005. The name "Sprint" refers specifically to the subsidiary of Japanese telecommunications company SoftBank which is the entitlement sponsor; sprint car racing is a separate racing discipline.

The drivers' champion is determined by a point system where points are given according to finishing placement and laps led. The season is divided into two segments. After the first 26 races, 16 drivers, selected primarily on the basis of wins during the first 26 races, are seeded based on their total number of wins and compete in the last 10 races with the difference in points greatly minimized. This is called the Chase for the Championship.

The series holds strong roots in the Southeastern United States with half of its 36-race season in that region. The current schedule includes tracks from around the United States. Regular season races were previously held in Canada, and exhibition races were held in Japan and Australia. The Daytona 500, its most prestigious race, had a television audience in the U.S. of about 16 million viewers in 2009.

Sprint Cup Series cars are unique in automobile racing. The engines are powerful enough to reach speeds over 200 mph (320 km/h), but high weight – coupled with a (relatively) simple aerodynamic package – makes for poor handling. Their bodies and chassis are strictly regulated to ensure parity, and electronics are generally spartan in nature.




Seasons


1990

2009

2010

2011

2012

2013

2014

2015

2016

2017

2018

2019

2020

2021

2022
Teams

23XI Racing


Front Row Motorsp


Hendrick Motorspo


Joe Gibbs Racing


JTG Daugherty Rac


Kaulig Racing


Live Fast Motor


MBM Motorsports


Richard Childress


Richard Petty Mot


Rick Ware Racing


Roush Fenway Raci


Spire Sports


Stewart-Haas Raci


Team Penske NASCA


Trackhouse Raci


Wood Brothers Rac
Key
(

) Missing Artwork
(- 4) Missing 4 Players: Data and Artwork
(

) Team Complete
Trophy Icon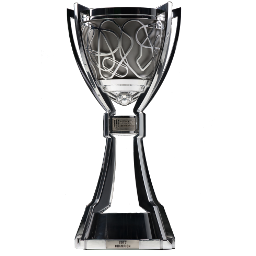 Fanart
Banner

Other Links