Site
Home /
Sport /
Soccer
/
French Ligue 1
Logo
Upcoming Events

22 Sep 23
Monaco
&nbsp
-
Nice
23 Sep 23
Nantes
&nbsp
-
Lorient
23 Sep 23
Brest
&nbsp
-
Lyon
24 Sep 23
Paris SG
&nbsp
-
Marseille
24 Sep 23
Lens
&nbsp
-
Toulouse
24 Sep 23
Le Havre
&nbsp
-
Clermont Foot
24 Sep 23
Metz
&nbsp
-
Strasbourg
24 Sep 23
Montpellier
&nbsp
-
Rennes
26 Sep 23
Lille
&nbsp
-
Stade de Reims
29 Sep 23
Strasbourg
&nbsp
-
Lens



Latest Results
17 Sep 23
Stade de Reims&nbsp
1 - 2
&nbsp
Brest
17 Sep 23
Clermont Foot&nbsp
0 - 1
&nbsp
Nantes
17 Sep 23
Lyon&nbsp
0 - 0
&nbsp
Le Havre
17 Sep 23
Lorient&nbsp
2 - 2
&nbsp
Monaco
17 Sep 23
Marseille&nbsp
0 - 0
&nbsp
Toulouse
17 Sep 23
Strasbourg&nbsp
2 - 2
&nbsp
Montpellier
16 Sep 23
Lens&nbsp
0 - 1
&nbsp
Metz
16 Sep 23
Rennes&nbsp
2 - 2
&nbsp
Lille
15 Sep 23
Paris SG&nbsp
2 - 3
&nbsp
Nice
03 Sep 23
Metz&nbsp
2 - 2
&nbsp
Stade de Reims
Description
Available in:






Ligue 1, also called Ligue 1 Uber Eats for sponsorship reasons, is a French professional league for men's association football clubs. At the top of the French football league system, it is the country's primary football competition. Administrated by the Ligue de Football Professionnel, Ligue 1 is contested by 20 clubs and operates on a system of promotion and relegation with Ligue 2.

Seasons run from August to May. Clubs play two matches against each of the other teams in the league – once home and once away – totalling to 38 matches over the course of the season. Most games are played on Saturdays and Sundays, with a few games played during weekday evenings. Play is regularly suspended the last weekend before Christmas for two weeks before returning in the second week of January. Ligue 1 is one of the top national leagues, currently ranked fifth in Europe behind Spain's La Liga, England's Premier League, Germany's Bundesliga and Italy's Serie A.

Ligue 1 was inaugurated on 11 September 1932 under the name National before switching to Division 1 after a year of existence. The name lasted until 2002 before switching to its current name. AS Saint-Étienne is the most successful club with ten league titles in France while Olympique Lyonnais is the club that has won the most consecutive titles (seven between 2002 and 2008). With the presence of 69 seasons in Ligue 1, Olympique de Marseille hold the record for most seasons among the elite, while Paris Saint-Germain hold the league record for longevity with 45 consecutive seasons (from 1974 until at least 2021). The current champions are Paris Saint-Germain, who were awarded their ninth title in the 2019–20 season. The league has been won on multiple occasions by foreign-based club AS Monaco, who make the league a cross-border competition.




Seasons


2012-2013

2013-2014

2014-2015

2015-2016

2016-2017

2017-2018

2018-2019

2019-2020

2020-2021

2021-2022

2022-2023

2023-2024
Teams

Brest


Clermont Foot


Le Havre


Lens


Lille


Lorient


Lyon


Marseille


Metz


Monaco


Montpellier


Nantes


Nice


Paris SG


Rennes


Stade de Reims


Strasbourg


Toulouse
Key
(

) Missing Artwork
(- 4) Missing 4 Players: Data and Artwork
(

) Team Complete
Trophy Icon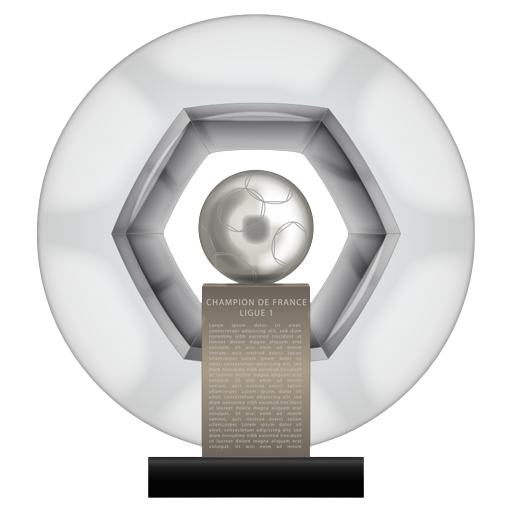 Fanart
Banner

Other Links