Event
Kansas City Chiefs vs
San Francisco 49ers
Date
Sun 2nd February 2020 UTC
Sun 2nd February 2020 Local
Time
23:30:00 UTC
18:30:00 EST Local
Poster
Thumb
Square Poster
Recent Record
Click here to show
League
NFL
Season
2019
Round
200
Status
Location
(0 Attendance)
Site
Home /
Sport /
American Football
/
NFL
/
2019
/
Kansas City Chiefs vs San Francisco 49ers
Video Highlights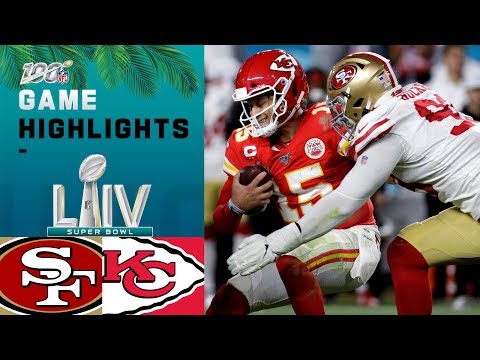 Play on YouTube
Home Team Lineup

Austin
Reiter
Center



Bashaud
Breeland
Cornerback



Charvarius
Ward
Cornerback



Tanoh
Kpassagnon
Defensive End



Chris
Jones
Defensive End



Frank
Clark
Defensive End



Derrick
Nnadi
Defensive Tackle



Laurent
Duvernay-Tardif
Guard



Stefen
Wisniewski
Guard



Reggie
Ragland
Middle Linebacker



Damien
Wilson
Middle Linebacker



Eric
Fisher
Offensive Tackle



Mitchell
Schwartz
Offensive Tackle



Anthony
Hitchens
Outside Linebacker



Patrick
Mahomes
Quarterback



Damien
Williams
Running Back



Tyrann
Mathieu
Safety



Daniel
Sorensen
Safety



Travis
Kelce
Tight End



Tyreek
Hill
Wide Receiver



Sammy
Watkins
Wide Receiver



Mecole
Hardman
Wide Receiver


Away Team Lineup

Ben
Garland
Center




Kyle
Juszczyk
Full-back




Laken
Tomlinson
Guard




Mike
Person
Guard




Joe
Staley
Offensive Tackle




Mike
McGlinchey
Offensive Tackle




Jimmy
Garoppolo
Quarterback




Tevin
Coleman
Running Back




George
Kittle
Tight End




Emmanuel
Sanders
Wide Receiver




Deebo
Samuel
Wide Receiver



Event Statistics
First downs
First downs rushing
First downs passing
First downs penalty
Total net yards
Net yards rushing
Rushing attempts
Yards passing
Interceptions thrown
Time of possession
Turnovers
Description


Super Bowl LIV, the 54th Super Bowl and the 50th modern-era National Football League (NFL) championship game, will decide the champion for the NFL's 2019 and 100th season. The National Football Conference (NFC) champion San Francisco 49ers will play against the American Football Conference (AFC) champion Kansas City Chiefs. The game is scheduled to be played on February 2, 2020, at Hard Rock Stadium in Miami Gardens, Florida. This will be the 11th Super Bowl hosted by the South Florida region and the sixth Super Bowl hosted in Miami Gardens, which hosted Super Bowl XLIV ten years earlier.
The game will be broadcast in the United States by Fox, and the halftime show will be co-headlined by Jennifer Lopez and Shakira.

Reports

Result ListResult Description
Nearly 50 years to the date of their last Super Bowl appearance (11 January 1970, Super Bowl 4), Chiefs have their first world championship in five decades.
Coach Andy Reid has won his first Super Bowl. Reid has 222 career wins, including post-season. Only five coaches in the history of the league have more victories, including the post-season
Mahomes is the second-youngest quarterback ever to win a Super Bowl after Ben Roethlisberger in Super Bowl 40
The 49ers won the toin coss in Miami - the last five teams to win the coin toss have lost the Super Bowl
Mahomes is the third quarterback to win Super Bowl MVP despite throwing multiple interceptions, joining Terry Bradshaw (three INTs in Super Bowl XIV) and Tom Brady (two in Super Bowl XLIX).

Popular Tweets

Fanart

Banner



Other Event Name


San Francisco 49ers @ Kansas City Chiefs

Potential Filename

NFL.2020-02-02.Kansas.City.Chiefs.vs.San.Francisco.49ers.ext

Download Metadata


Kodi NFO File