Event
Cincinnati Bengals vs
Los Angeles Rams
Date
Sun 13th February 2022 UTC
Sun 13th February 2022 Local
Time
23:30:00 UTC
15:30:00 Local
Poster
Your Rating (Click a star below)












Total Rating


(0 users)


Thumb




Square Poster




Recent Record
Click here to show

League
NFL

Season
2021

Round
200

Status


Location
SoFi Stadium
(70,048 Attendance)
Los Angeles
United States





Site
Home /
Sport /
American Football
/
NFL
/
2021
/
Cincinnati Bengals vs Los Angeles Rams
vs

20

No timeline found..

23

No timeline found.. Add one?
Video Highlights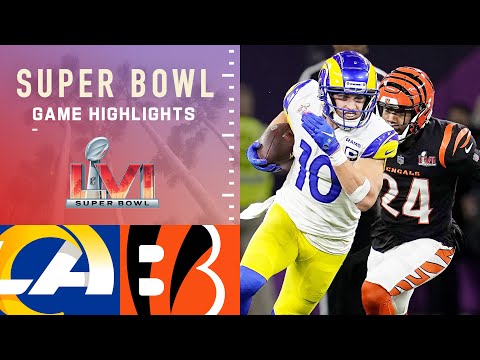 Play on YouTube
Home Team Lineup
No lineup players found (Login to add)
Away Team Lineup
No lineup players found (Login to add)
Event Statistics Description


Super Bowl LVI was an American football game played to determine the champion of the National Football League (NFL) for the 2021 NFL season. The National Football Conference (NFC) champion Los Angeles Rams defeated the American Football Conference (AFC) champion Cincinnati Bengals, 23–20. The game was played on February 13, 2022, at SoFi Stadium in Inglewood, California, the home stadium of the Rams, marking the second consecutive Super Bowl and second overall Super Bowl to feature a team playing in its home stadium.
The Rams' victory was their second, and first as a Los Angeles-based team, having won Super Bowl XXXIV while based in St. Louis. Th Rams finished with a 12–5 record and made a fifth appearance in a Super Bowl. Quarterback Matthew Stafford was acquired in 2021; he experienced his first postseason success after winning no playoff games in his 12 years with the Detroit Lions. The Bengals, who finished with a 10–7 record, were seeking their first Super Bowl title following many decades of losing seasons and struggles in the playoffs. They won their first playoff game since 1990, ending the longest drought in the four major North American sports, en route to their third appearance and first since Super Bowl XXIII. Each team finished the regular season as its respective conference's 4-seed, making this the first Super Bowl without a top-3 seed since seeding was introduced in 1975.
A competitive affair, the game had three lead changes and was mostly kept within a one-possession margin. The Rams led 13–10 at halftime, but the Bengals scored 10 straight points on their first two drives in the third quarter. Trailing 20–16 in the fourth, Los Angeles scored a touchdown to retake the lead with under two minutes remaining and stopped Cincinnati's final drive on downs. Wide receiver Cooper Kupp was named Super Bowl MVP after finishing the game with eight receptions, 92 yards, and two touchdowns, including three receptions and the game-winning touchdown on the Rams' final drive.

Reports
None found...
Result ListResult Description
1 2 3 4 Total
LAR 7 6 3 7 23
CIN 3 7 10 0 20

Popular Tweets

Fanart

Banner



BTSRLZ says:
14 Feb 2022 13:52
Super Bowl LVI