Site
Home /
Sport /
Motorsport
/
NASCAR Cup Series
/
2022
/
Toyota Owners 400
Video Highlights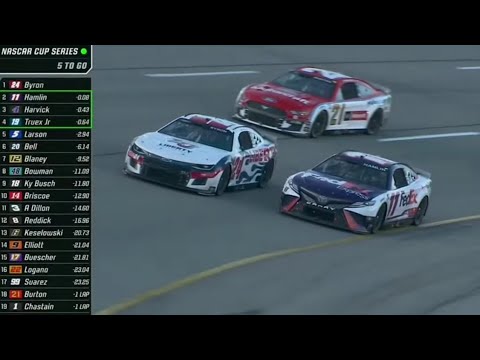 Play on YouTube
Event Statistics Description


The Toyota Owners 400 is a 400 lap NASCAR Cup Series stock car race held at the Richmond Raceway in Richmond, Virginia. From 2007 to 2011, former race title sponsor Crown Royal named the race after the winner of an essay contest during Daytona Speedweeks. The winner of the first essay contest was Jim Stewart from Houma, Louisiana, with subsequent contests won by Dan Lowry of Columbiana, Ohio, and Russ Friedman of Huntington, New York, with the 2010 race being named for Army veteran Heath Calhoun of Clarksville, Tennessee. Since 2010 only military service members have been eligible to win the contest. Crown Royal moved the "Your Name Here" sponsorship to the Brickyard 400 beginning in 2012.

Reports
None found...
Result List
1
Denny Hamlin
400 Laps
2
Kevin Harvick
400 Laps
3
William Byron
400 Laps
4
Martin Truex Jr.
400 Laps
5
Kyle Larson
400 Laps
6
Christopher Bell
400 Laps
7
Ryan Blaney
400 Laps
8
Alex Bowman
400 Laps
9
Kyle Busch
400 Laps
10
Austin Dillon
400 Laps
Result Description
Denny Hamlin finally notched his first win of 2022. Much to the pleasure of the fans at Richmond Raceway, the hometown favorite from Chesterfield, Virginia, took the lead of the Toyota Owners 400 from William Byron with five laps remaining and held off the field for a 0.552-seconds victory over Kevin Harvick.
It was Hamlin's first top 10 of the 2022 season, though it marked his fourth NASCAR Cup Series victory at the 0.75-mile track.
It was the sixth win for the Joe Gibbs Racing Toyota team in the last eight races at the Richmond track.

Popular Tweets

Fanart

Banner



Other Event Name




Potential Filename


NASCAR.Cup.Series.2022-04-03.Toyota.Owners.400.mkv


NASCAR.Cup.Series.2022-04-03.Toyota.Owners.400.S2022E0.mkv


NASCAR.Cup.Series.2022-04-03.Toyota.Owners.400.mkv

Download Metadata


Kodi NFO File