Name
George Groves
Thumb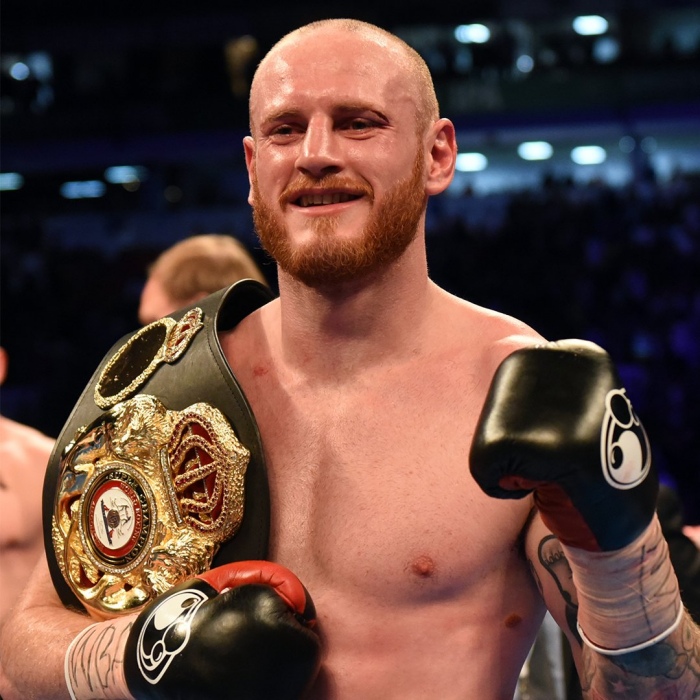 User Rating

(0 users)
Complete

60%
Born
1988 (31 years old)
Birth Place

Hammersmith, West London, UK
Position
Boxer
Team NumberHeight
5 ft 11 1⁄2 in (182 cm)
Outfitter
KitSideAgentWage YearPlayer Cutout
Player Action Render
Sport

Fighting
Team
Boxing Men
League
Boxing
Creative Commons Artwork
Site
Home /
Fighting
/
Boxing
/
Boxing Men /
George Groves
Description
Available in:

George Groves (born 26 March 1988) is a British former professional boxer who competed from 2008 to 2018. He held the WBA (Super) super-middleweight title from 2017 to 2018, and previously the European, British, and Commonwealth super-middleweight titles between 2010 and 2014. As an amateur, Groves won the ABA middleweight title twice in 2007 and 2008.

In March 2018, he was ranked as the world's best active super-middleweight by BoxRec, The Ring magazine and the Transnational Boxing Rankings Board.

Amateur career
Groves generally fought in the 75 kilograms (165 lb) division as an amateur and won the Senior ABA championship for his weight in 2006 and 2007. He also fought in championships around the world and won medals in places such as Russia, Estonia, Bosnia, Morocco and the United States. In 2006, he defeated future Olympic and world champion James DeGale and compiled a total amateur record of 66 wins out of 76 fights with 40 stoppage victories.

Professional career
Early career
Groves turned professional on 15 November 2008 and joined the Hayemaker Promotions stable. His first fight as a professional took place in November 2008 at The O2 Arena, on the undercard of David Haye's win over Monte Barrett with a six-round win over Kirill Pshonko. His next outing in February 2009, saw him score a third round stoppage over Romaric Hignard in a fight at the York Hall in Bethnal Green. He followed the victory up in March defeating Paul Samuels at the Echo Arena in Liverpool, and in April travelled to Belfast to dispose of Sandor Polgar.

In September 2009, following the collapse of Hayemaker's television deal with Setanta Sports, Groves along with Olympic bronze medalist David Price signed a promotional deal with veteran boxing promoter Frank Maloney who described Groves as "one of the world's best prospects". Despite signing for Maloney however, Groves would continue to be managed and trained by Hayemaker's Adam Booth. On 7 November 2009, following two more professional outings, Groves travelled to Germany and fought on the undercard of stablemate David Haye's WBA title win against Nikolai Valuev, defeating the experienced Konstantin Makhankov in his first fight over eight rounds.

British and Commonwealth champion

Groves (right) vs. Paul Smith, 2011
Groves' first title opportunity came on 3 April 2010, as part of the undercard of David Haye's first title defence against John Ruiz at the MEN Arena in Manchester. Groves, in only his ninth fight, defeated Charles Adamu via TKO to win the Commonwealth super-middleweight title. Groves had dominated the fight, knocking Adamu down once in the first and twice in the fourth before the referee stepped in with nine seconds remaining in the sixth. Groves followed up the win by travelling to Las Vegas in order to gain some higher-profile experience and to fight on the undercard of Marquez-Diaz II on 31 July 2010. Groves' opponent, Alfredo Contreras, had a record of eleven wins and seven losses going into the fight, but nonetheless represented a higher level of international journeyman than those Groves had already beaten. The fight was stopped in the sixth round after the referee decided that Contreras was not sufficiently answering back with punches.

On 13 November 2010, Groves made the first defence of his title beating former Commonwealth Games gold medalist Kenny Anderson in the sixth round. The fight, on the undercard of David Haye's world title clash with Audley Harrison at the MEN Arena, resulted in a career first knockdown for Groves as he endured his toughest fight to date. On 5 March 2011, Groves defeated Daniel Adotey Allotey at the Huddersfield Leisure Centre, winning by stoppage in the fourth round of what was an eight-round non-title fight. Following the bout Groves said that the fight had been preparation for a potential future clash with British champion and old foe James DeGale, a fight he predicted that he would win. He said "Whether it comes by knockout or points, I don't really care. He knows that I've got his number and he's going to struggle to sleep in the preparation for this fight because he is going to have to be on his brain all the time."




Career Honours


None Found... Add Some?


Former Teams


None Found... Add Some?


Contracts


None Found... Add One?

Fanart



Banner




Other Links