Name
Wigan
Badge
User Rating

(0 users)


Next Event

Brentford vs Wigan (04 Jul)
Head Coach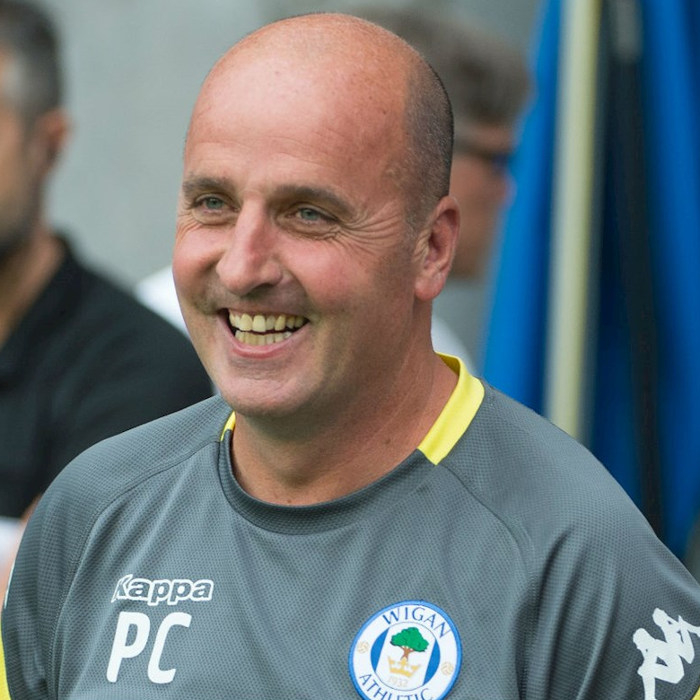 Paul Cook
Recent Form ➡
W
D
W
W
W
Established
1932 (88 years old)
Sport

Soccer
Stadium/Home
DW Stadium
(25,138 Capacity)
Jersey or Equipment Clearart
Location
Wigan, Lancashire, England
Nicknames
Latics
League
English League Championship
Last Edit
smudgie: 08/Jan/20
Site
Home /
Sport /
Soccer
/
English League Championship
/
Wigan

(year 2017)

Upcoming Events
04 Jul 20
Brentford &nbsp
-
&nbspWigan
08 Jul 20
Wigan &nbsp
-
&nbspQPR
11 Jul 20
Barnsley &nbsp
-
&nbspWigan
14 Jul 20
Wigan &nbsp
-
&nbspHull
18 Jul 20
Charlton &nbsp
-
&nbspWigan

Latest Results

30 Jun 20
Wigan
&nbsp
3 - 0
&nbsp
Stoke
27 Jun 20
Wigan
&nbsp
2 - 0
&nbsp
Blackburn
20 Jun 20
Huddersfield Town
&nbsp
0 - 2
&nbsp
Wigan
07 Mar 20
Wigan
&nbsp
0 - 0
&nbsp
Luton
29 Feb 20
West Brom
&nbsp
0 - 1
&nbsp
Wigan
Description
Available in:

Wigan Athletic Football Club is an English professional football club based in Wigan, Greater Manchester, who compete in the Football League Championship, the second tier of English football. Founded in 1932, the club is the most recently formed club in the division.

They have played at the DW Stadium since 1999, sharing the stadium with rugby league club Wigan Warriors. They previously played at Springfield Park for 67 years. The club's nickname is Latics. They are the penultimate holders of the FA Cup and were almost awarded the opportunity to defend the title the following season, only missing out on the final on a penalty shootout. They have also won the Second Division, Third Division and are two-times winners of the Football League Trophy, along with numerous regional football competitions from their time as a non-league club. The club embarked on its first European campaign during the 2013–14 season in the UEFA Europa League group stages where the DW Stadium was temporarily known as The Wigan Athletic Stadium in accordance with competition rules.


Team Members

Andrew
Taylor




Jake
Buxton




Stephen
Warnock




Omar
Bogle #24




Yanic
Wildschut




Joel
Robles #1




Gaetan
Bong




Sanmi
Odelusi




Mikael
Mandron




Matt
Gilks




Max
Power




Reece
James #3




Jack
Hendry




Sam
Stubbs #26




Dave
Beasant




Harry
Maguire #5



= Contract years remaining
Stadium or Home
The DW Stadium is a sports stadium in Wigan, Greater Manchester, England. The ground is owned and managed by Wigan Athletic Holdings Ltd, and it is used by Wigan Athletic football club trading under the name Wigan Athletic AFC Ltd and it is also used by Wigan Warriors rugby league club. Built and opened in 1999, it is named after its main sponsor, DW Sports Fitness, In UEFA matches, it is called Wigan Athletic Stadium due to UEFA regulations on sponsorship.
Its current capacity is 25,138—seated in four single-tier stands—and its record attendance was on 11 May 2008 when 25,133 people watched Wigan Athletic play Manchester United in the title-deciding match of the 2007–08 Premier League season.
Fanart
Banner

Other Links