Name
Alshon Jeffery
Thumb
User Rating

(0 users)
Born
1990 (28 years old)
Birth Place

St. Matthews, South Carolina
Position
Wide Receiver
Height/Weight
6 ft 3 in (1.91 m) / 218 lb (99 kg)
Value
$14 million
Wage YearPlayer Manager IDPlayer Cutout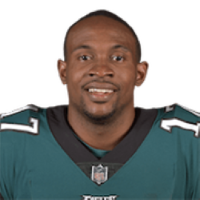 Sport

American Football
Team
Philadelphia Eagles
League
NFL
Site
Home /
American Football
/
NFL
/
Philadelphia Eagles /
Alshon Jeffery
Description

Alshon Jemell Jeffery (born February 14, 1990) is an American football wide receiver for the Philadelphia Eagles of the National Football League (NFL). He played college football at South Carolina, and was drafted by the Chicago Bears in the second round of the 2012 NFL Draft.

Early years
Jeffery attended Calhoun County High School in St. Matthews, South Carolina, where he was part of a four-time state championship winning basketball team that recorded a 84-1 record. He also played two years of football and was widely recruited, giving a verbal commitment to the University of Southern California before switching his commitment to the University of South Carolina. Jeffery's younger brother, Shamier Jeffery, committed to play football for the Gamecocks in 2011, following in the footsteps of both of Jeffery's two older brothers Charles Ben and Darren Ben; both of whom also played basketball and football for Calhoun County High School.

College career
2009 season
As a freshman, Jeffery caught five passes for 61 yards in his first five games before making seven catches for 138 yards and three touchdowns against the University of Kentucky. The performance was the second-best single-game performance in school history and Jeffery became the third Gamecock in 2009 to earn SEC Freshman of the Week, following defensive end Devin Taylor and running back Jarvis Giles. He was a consensus first-team Freshman All-SEC and first-team Freshman All-American in recognition of his successful freshman season.

2010 season
In a Week 4 game against Auburn, Jeffery had a breakout performance in the 35–27 loss. He was only a few yards shy of 200 receiving yards and added two touchdowns for the Gamecocks. Another one of his best games in 2010 came against in-state rival Clemson where he had five catches for 141 yards and a touchdown. Through 14 games, Jeffery made 88 catches totaling 1,517 yards and nine touchdowns including eight games with 100 yards or more receiving, and a 108.4 yd/game average. Jeffery was named a Biletnikoff Award finalist, the award given to the nation's top wide receiver. Because of his performances, helping lead the Gamecocks to their first SEC Championship Game appearance in school history, Jeffery was selected as an All-American.

2011 season
At the beginning of the 2011 season, Jeffery was named by ESPN as the best overall player in the SEC. In the season opener against ECU in which he caught five passes for 92 yards, Jeffery extended his active streak to 24 consecutive games with a reception. In the 2012 Capital One Bowl, Jeffery caught four passes for 148 yards and a touchdown but was ejected in the third quarter for fighting with Nebraska player cornerback Alfonzo Dennard. Despite this, Jeffery was named the Capital One Bowl MVP.




Career Honours

Former Teams

| | |
| --- | --- |
| 2012-2016 | |
Fanart
Other Links